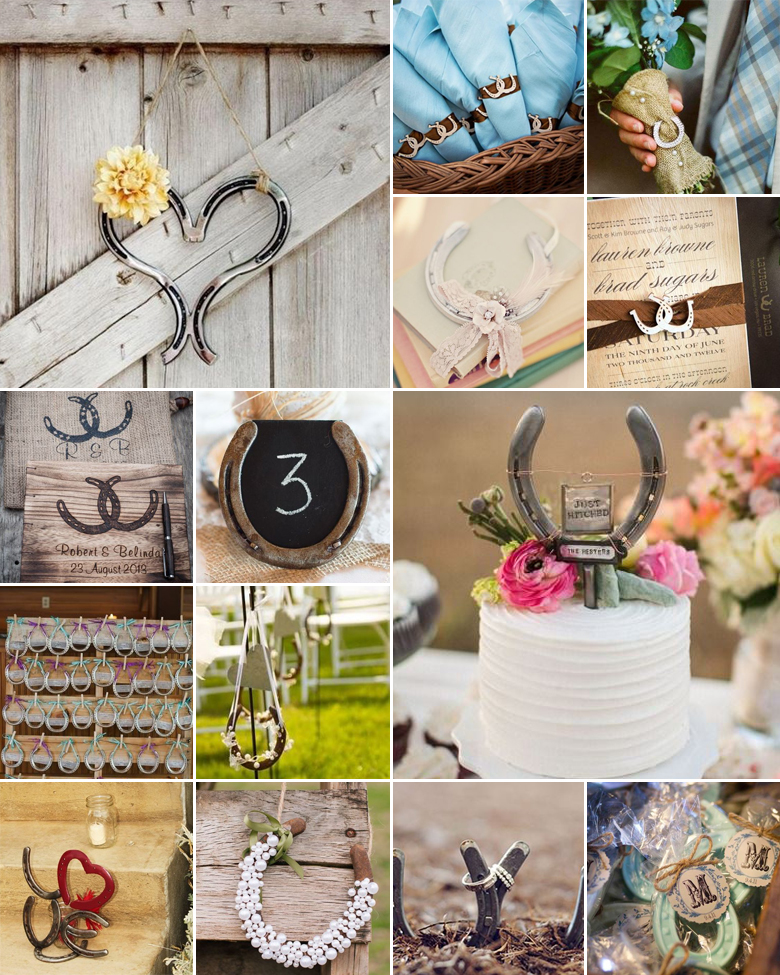 It's no secret that horseshoes are good luck charms! And if ever there was a day you need a little extra luck on your side, it's your wedding day.
The most effective way to incorporate horseshoes into your day is by playing around with horseshoes of varying sizes, and using them in strategic decorative areas. This includes place cards, chair decor, edible horseshoes on your cake and horseshoe necklaces for your bridesmaids.
A couple of horseshoes combined can create interesting shapes! For instance, take two horseshoes and use a touch of extra scrap metal to make a heart; or glue them together in pairs two or three horseshoes, and place them on top of each other to make a pretty flower.
Horseshoes have an incredibly rustic farm-like charm about them, which lends itself to being paired with other equally rustic elements. These can include rusted barbed wire, rusted metal farm implements and any other rusted items you can lay your hands on.
When it comes to guest favours, a horseshoe is an excellent way to wish your special guests lucky and happiness as they head on out after the reception. You can also use horseshoes to make your own tossing lawn games for the cocktail hour.
As a last little word of advice: Always ensure that the horseshoes are turned upwards, otherwise you and your future hubby might start your journey on the wrong foot!
Original images and their credits available on Pinterest