The Notebook had half of the male population running around frantically as their female counterparts bawled shamelessly, immersed in the irresistible love story of Noah and Allie. To have a Notebook themed wedding is likely going to be a combination of the 1940's styles of dress and décor as well as specific references to the film.
Remember that the 1940's was the decade of the Second World War. Therefore, fabrics and other luxuries were in short supply. The style of your wedding will be far simpler in its prettiness than extravagant. Weddings were often rushed; crammed in before the groom was called back to military service away from his love. So, the weddings were not costly or complex. This will suit the budgeting bride-to-be or wedding planner perfectly.
Here are some ideas for your Notebook wedding:
Include ducks and swans in reference to the film couple's comments about all of the baby swans.
Leave your reception or have your wedding photographs taken in a rowing boat on a lake or lagoon.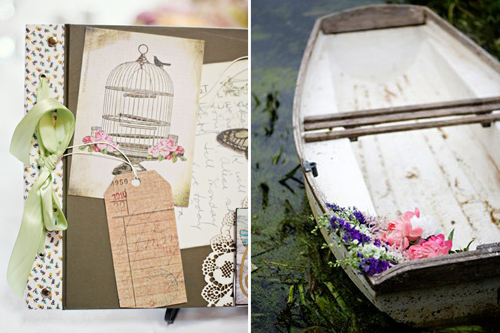 Love My Dress | Rock My Wedding
Allie wears a cute blue dress in the famous scene of her and Noah kissing in the rain. These would look great on your bridesmaids.
Red lipstick with a peaches-and-cream complexion is a must!
Opt for fresh flowers picked from the garden.
Have a look at these sweet stationery designs, aptly called Noah and Allie:
Give each guest a pretty notebook and pen as a guest favour.
Write down your own love story in a gorgeous notebook at the entrance of your venue for all of your guests to read, if they choose.
Include newspaper print as part of your stationery design, since seeing Allie in the newspaper was a major part of Noah's storyline and script.
Be sure to have a look on Pinterest for more inspiration.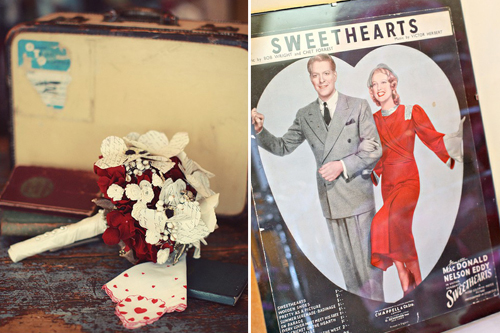 The Wedding Chicks | Love My Dress