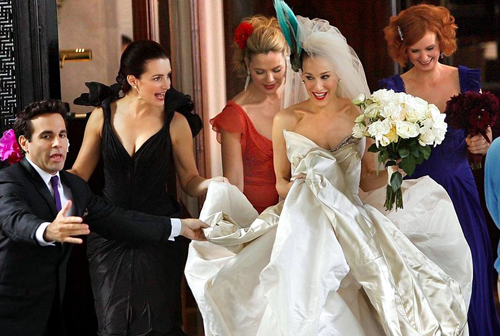 Include Carrie, Charlotte, Samantha and Miranda in your wedding day by having a chic Sex and the City themed wedding. This theme is all about glamour and style, with the quintessential quality of OTT (Over The Top). This is not only a great theme for women; many men have been drawn in by the comedy and intrigue of these New York yuppies since the late 1990's, when the series began, and they will enjoy the theme just as much.
To perfect your glamorous Sex and the City theme, try the following hints and ideas:
Use hot pink (cerise) and black as your theme colour combination.
The series and film are set in the vibrant New York City, so have plenty of "I heart New York" memorabilia around the venue.
Arrange piles of fashion magazines (such as Vogue and Cosmopolitan) in place of the floral bouquets as table centrepieces. This will also give guests something to look at while waiting for you to return from having your wedding photographs taken, if they are already in the venue.
Serve elegant drinks, like Cosmopolitans, Manhattans and Appletinis.
For dinner, sushi and Chinese food are tops (if you don't know why, you haven't watched enough Sex and the City!).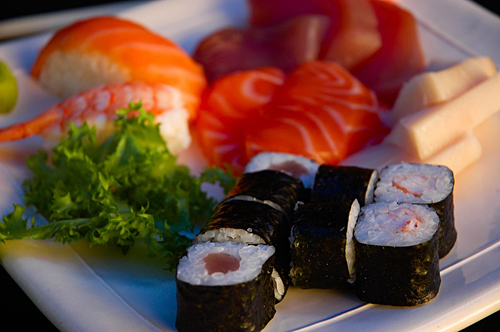 Image Source: Blufin Sushi Catering
Use giant martini glasses as vases.
Opt for a wedding dress similar to one that has featured in the show. Carrie wore a dramatic haute couture creation by Vivienne Westwood, while Charlotte's wedding dress in her marriage to Harry was simply exquisite.
Your dessert or wedding cake will be perfectly themed as pink-iced cupcakes topped with lipsticks, shoes, martini glasses and New York elements in sugared designs.
Ask your guests to dress up as the well-known characters of the show.
Make sure that your shoes, and those of your entourage, are TO DIE FOR.
Guest favour ideas include Gucci-style shopping bags filled with tasty treats, "I heart New York" key rings, recipes for the fab cocktails served or Kama Sutra books (at weddings to which children are not invited).
View our glamorous gallery below for more inspiration…
[flgallery id=90 /]