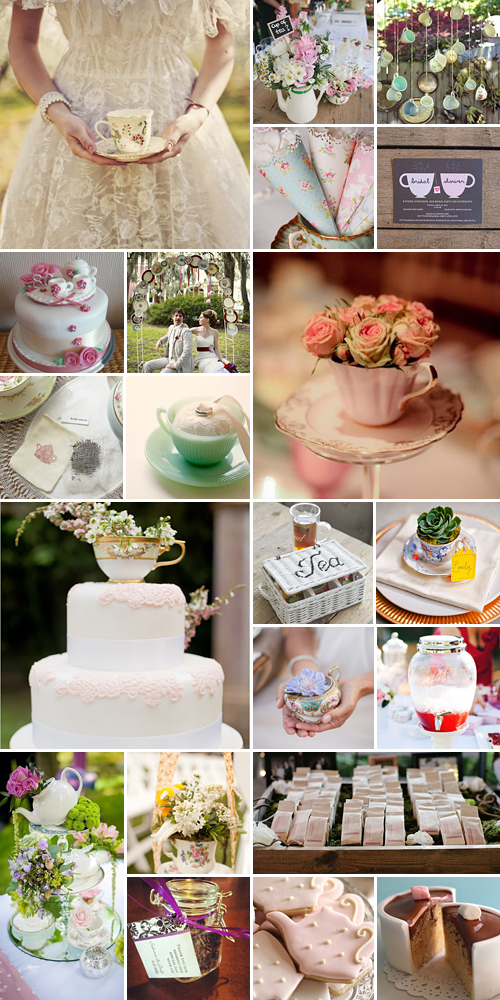 Tea has been said to be many things – sustenance for the soul, the drink of gods, liquid gold, and the list goes on. And now we're adding "wedding theme" to the list! Whether you're intrigued by fine china and pretty little teacups or simply mesmerised by the pure taste of tea, a tea-themed wedding is sure to calm even the most out of control wedding jitters and cold feet.
A tea wedding theme is a true embodiment of tranquillity, femininity and sophistication. Therefore it's essential that all other elements of the day are kept equally light and dainty to infuse the wedding with a sense of the delicate peace that we associate with a cup of tea. Colours that pretty much comprise any vintage-type shades as well as pastels and creams.
For starters, tea cups are a fantastic addition to the wedding décor and food tables – the ideal vases, candle holders, candy containers, planter pots, cupcake holders and guest favours. We also love the idea of unusual beverages served in teacups, for instance red wine, cocktails, milkshakes, iced tea and liqueur. In fact, if neither of you are champagne lovers, why not toast the happy occasion with a steaming cup of goodness instead?
Other ways to incorporate tea into your big day includes personalising teabag tags, hanging tea cups from the ceiling or surprising guests with a teatime goodie box filled with scones and carefully sourced teabags. Furthermore, use tea-stained paper for the stationery elements and incorporate teacup and teapot line drawings.
Original images and their credits available on Pinterest