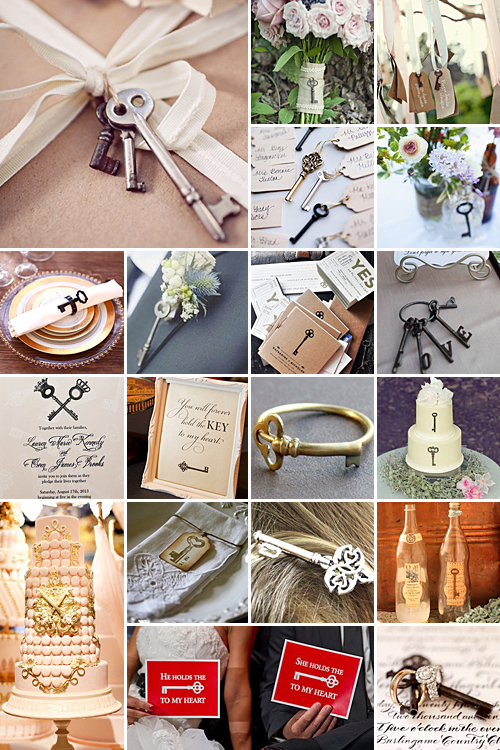 Since one can never really be sure where they lead or what they unlock, keys have a somewhat mysterious and intriguing charm about them. Old fashioned keys are especially coveted in bridal circles and fit in perfectly with a vintage or rustic inspired theme of any kind.
While odd keys are not exactly something you can buy at the supermarket, aunts and grandparents are sure to have a couple stacked away in a box somewhere so don't be scared to ask around. Keep a look out for a variety of big, small, odd, heavy, slim, chunky old keys and incorporate them into your wedding day in the following ways:
Suspend keys from the chandeliers over each of the guest tables, just for a touch of random fun.
Wear key-inspired jewellery like an old vintage key on a chain around your neck or a key-hairclip to complete your pretty up-do.
Turn an old key into a boutonniere for him, allowing him to hold the key to your heart close to his own.
Shake things up with an interactive table plan. Simply attach a lock to the back of each chair and let guests find their own seats by matching their keys to the locks.
Use actual keys as cake jewellery or simply have your cake designer make key imprints in the frosting.
Gentleman, why not propose with a ring AND a key to your new home (even if it's just symbolic)? Alternatively exchange keys and rings at the ceremony to symbolise your union.
Should you struggle to find enough old keys, buy a bag of new ones from the local lock smith and use anything from sandpaper to a hammer to make them look old and battered.
Print out large keys and use them as pointers in and around the venue to direct guests to key areas (excuse the pun).
Thread the keys onto a long piece of yarn and string it across the ceiling (as "key bunting) or along the sides of the aisle.
Set up a guest book where guests can share their "Key to a successful marriage".
To build on the key theme, add a keyhole element to the overall theme – for instance, key hole or peephole save-the-dates.
Original images and their credits available on Pinterest