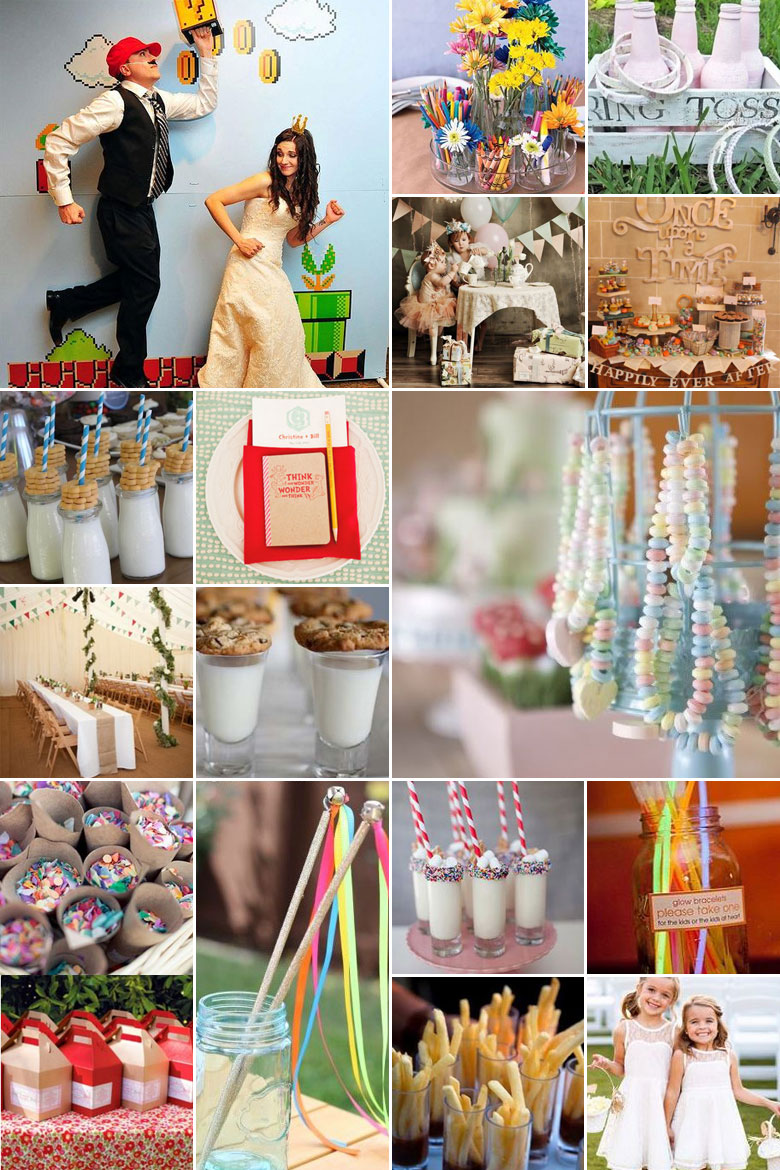 Getting married signifies a very important stage of your life, where you move from an independent, single lifestyle, to one that you commit to sharing with one partner forever. But celebrating your marriage does not mean that you have to be mature about it! Themed weddings are really popular, and they are a great way to make sure that your guests have fun and remember your occasion as being unique. A Kids' Party theme is budget-friendly, relaxed, fun and will engage your guests as they identify with the various elements from their own childhoods.
Invitations
Depending on your budget, your invitations will set the scene for the Kids' Party in various ways. For a cheaper alternative, buy a pad of the invitations usually used for children's parties at any stationery shop. These may be printed with Barney the Dinosaur, Barbie, Ben 10 or Bratz imagery, for example. Alternatively, for a more novel approach, collect toy cars, Lego pieces or plastic farm animals and tie a childishly handwritten note to these, inviting guests to your big day.
Attire
Enhance your dream wedding gown with fairytale touches, such as feminine tiaras, lace and ribbons. Bridesmaids may don something a little more childlike, such as short summer dresses and flat plastic shoes of bright colours, while the groomsmen will look great in superman capes or casual suits and bright braces. Give each of your guests a party hat to wear as they enter the reception.
Décor
There are so many options when it comes to using a playful Kids' Party theme in terms of décor. Use colourful balloons, streamers, banners, paper cups and plates, themed paper serviettes and more. Fill the venues to create an exciting effect.
Food
Serve colourful cold drinks in brightly-coloured plastic or paper cups. Be sure to make champagne, wine and beer glasses available, though, as some guests may not enjoy their favourite refreshment from a plastic cup. In terms of food, remember that kids love bright, sweet goodies with lots of decorations. Savoury foods should always be served with tomato sauce or mayonnaise. Opt for burgers, fish fingers, hotdogs, cupcakes, ice cream and, of course, good old fashioned sponge cake with icing.
Games
No children's party would be complete without some fun games to keep the guests occupied. This is also an ideal way to pass the time as your friends and family wait for you to finish with your photographs and to get to know one another better. Options include:
Pass the Parcel
Musical Chairs
Hopscotch
Hide & Seek
Red Light, Green Light
Guest Gifts
Send each guest home with his or her own "Lucky Packet", containing a variety of little gimmicks, sweets, and so on. For an adult touch, add mini bottles of spirits, cigars, liqueur chocolates, beaded jewellery, etc…
Alternatively, hand out Party Packs filled with tasty treats. This could even serve as your dessert, if the desserts are appropriate (such as doughnuts or custard slices, for example). Include a 'thank you' note in the way of a colourful stamp or sticker on the outside of the party bag or box.
Original images and their credits available on Pinterest