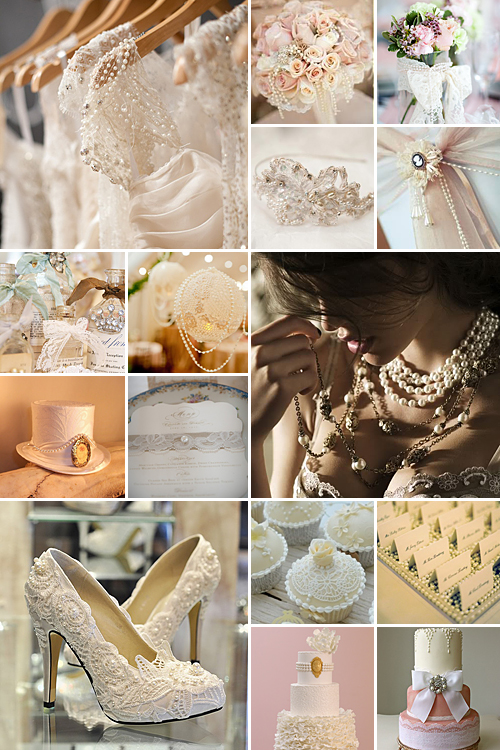 Whether you were getting married in the 20s or 50s or planning on tying the knot in 2052, you simply cannot go wrong with lavish sprinkles of pearls and meters of lace. Both are timeless elements on their own, but put them together and you have the true embodiment of vintage glamour and femininity.
Lace and pearls work well with vintage-inspired colour schemes that are made up of colours like dusty pink, cream, ivory, antique blue and peach, and simple vintage elements like brooches, white ceramic figures and tea cups. Here are some examples of how create a pearl-meets-lace soiree:
Food & Drink: Decorate the wedding cake with edible pearls and lace-inspired fondant icing or sculpted chocolate, place a real/fake pearl in the bottom of the champagne glasses and tie lace ribbons around the glass stems.
Bridal Beauty: There's nothing quite as magical as a lacy dress worn with dainty pearl earrings or a string of pearls. You can also adorn your hair with pearl hair grips or a lacy fascinator and why not don a pair of lace-covered shoes?
Flowers: Choose soft vintage-style flowers like roses, carnations and peonies. Wrap a piece of lace around the stems, dot the flower cores with pearls or opt for a lace-and-pearl bouquet instead of fresh flowers. Also be sure to fill the bottom of the vases with pearls, whether they be real or fake.
Décor: Use lace and pearls on a grand scale! Drape strings of pearls from the chandeliers, decorate walls and ceiling with lace bunting/Chinese lanterns and wrap lengths of lace around the chairs.
Original photos and their credits available on Pinterest.