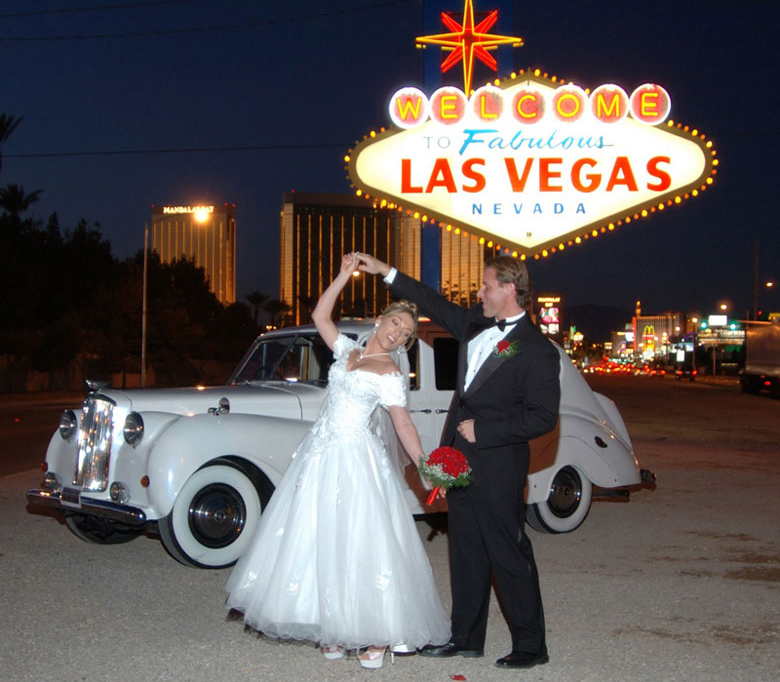 Las Vegas is known as the capital of the alcohol-fuelled, less-than-well-thought-out wedding. It is famous for its abundant number of wedding chapels, many of which are open 24 hours of every day to allow for couples to wed at will by an Elvis-impersonating officiant. While this may not be the height of romance, it certainly does make for a fun wedding theme.
Theme Colours
Red, black and white are definitely the iconic colours of Las Vegas. Fortunately, these are quite dramatic and effective when used as wedding colours, allowing you (the bridal couple) to maintain an elegant, but dramatic, look and feel that is fairly timeless. In addition, it allows for the traditional white dress and black tuxedo, if this is what you want. You could even reverse this custom by having a black dress and white tuxedo, for a completely different look.
Attire
Almost any style and cut is acceptable for a Las Vegas-themed wedding. Ultra-modern brides are free to experiment with fun cuts and over-the-top embellishments. One just has to consider the Vegas showgirls and their opulent outfits to be inspired with some really unique and exciting ideas for the wedding dress as well as the bridesmaids' outfits. Think feathers, sequins, netting and ruffles!
Men can don the usual black tuxedo, as this is quite in line with the Las Vegas feel. However, bright, glittery waistcoats and cravats or bowties are not out of the question, and will definitely lend your occasion a sense of bling and celebration. A white tuxedo may add that extra touch of pizzazz.
Bouquets and boutonnieres can be replaced by extravagant feathers and exotic flowers.
Use playing card and dice designs on dresses, shoes, ties and accessories for a humorous touch.
Décor
Set up Blackjack tables, poker tables, and slot machines if your budget allows you to do so (or hire a casino venue that is already equipped with these). This can be a great way to entertain guests while they wait for the bride and groom to return from having the photographs taken, and adds enormously to the décor of the venue.
Instead of floral centrepieces, use card arrangements, chips and even coins and money notes. If you prefer a slightly more conventional look, fill your vases with colourful feathers and fairy lights or bunches of (presumably fake) money. Replace your traditional tablecloths and throws with green or blue veld to give guests the sense that they are dining right at their own private casino table.
Food & Beverages
Las Vegas is all about partying and celebrating your winnings, so your menu should consist of exotic, tasty dishes. Surprise guests with champagne, seafood and decadent desserts. Include cocktails that are suitable for men and women to drink, so that everyone can get into the Vegas spirit.
Other
Hire professional Blackjack dealers so that guests can actually play during the course of the evening. Their reward can either be a fantastic prize or some sort of IOU favour from the bride and groom (such as "dinner at our new home").
Las Vegas is also known for top performers and performances like Elvis Presley and the Cirque du Soleil. Using these elements in the attire of the bridal entourage, the guests and the décor (think trapeze ropes from the ceiling!) will add a great twist to the event.
Photo Credit: blog.tbdress.com