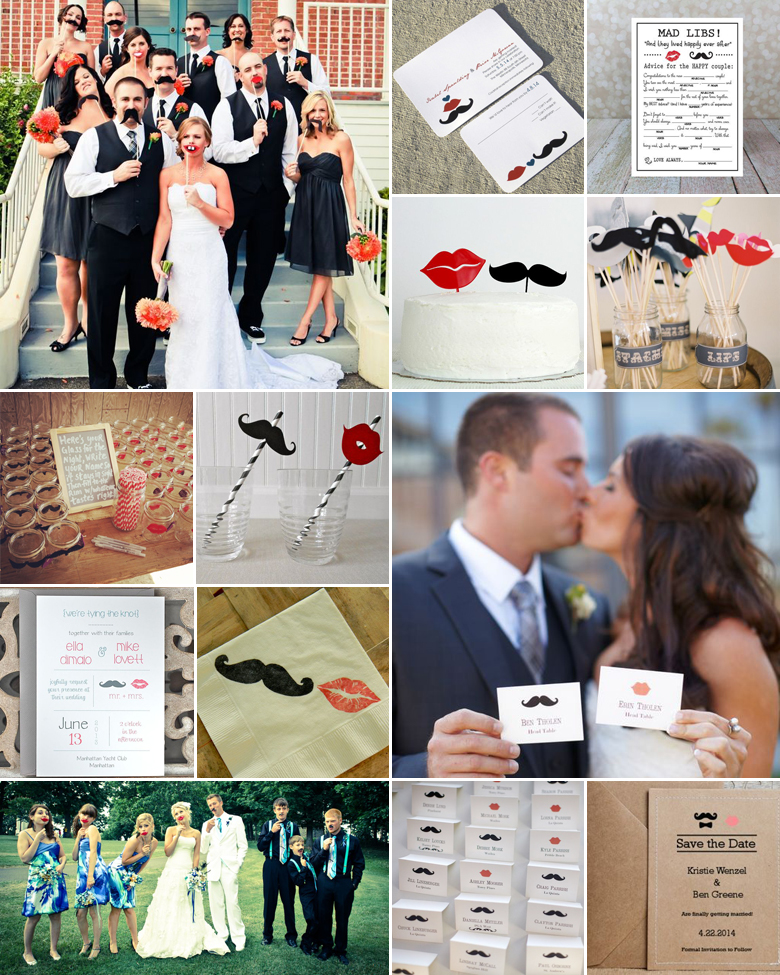 Lips for you, moustache for him! These two simple vectors are the ideal representation of male and female – bride and groom – wifey and hubby. And with so many lips-and-mo inspired bits and bobs popping up all over the place, you certainly won't battle to find the right elements to turn this into a full-on theme for your wedding day:
Use giant lips and moustache prints as indicators on the doors of the ladies and gents' bathrooms.
Slip cardboard cutouts of lips and moustaches onto the ends of straws for guests to have a little fun with.
Instead of traditional bride and groom cake toppers, decorate the wedding cake with little wooden figurines – one with lips and the other with an oversized moustache.
Set up a photo booth with lips-and-mo paper props on skewer sticks, and also put these paper props to good use when snapping quirky photos with your entourage.
Request that your male guests or groomsmen grow their moustaches for the wedding day and that the lady guests or bridesmaids wear bright red lipstick – imagine the cutesy wedding photos!
Invest in lips and moustache ink stamps to "brand" everything from your basic stationery elements to your napkins for cheap-cheap.
Buy cute little moustache-inspired jewellery bits for the bridesmaids and moustache brooches which the groomsmen can wear instead of traditional boutonnieres.
Bake moustache and lips shaped sugar cookies for the dessert table, and also buy a couple of molds to make quirky shaped chocolates.
Original images and their credits available on Pinterest