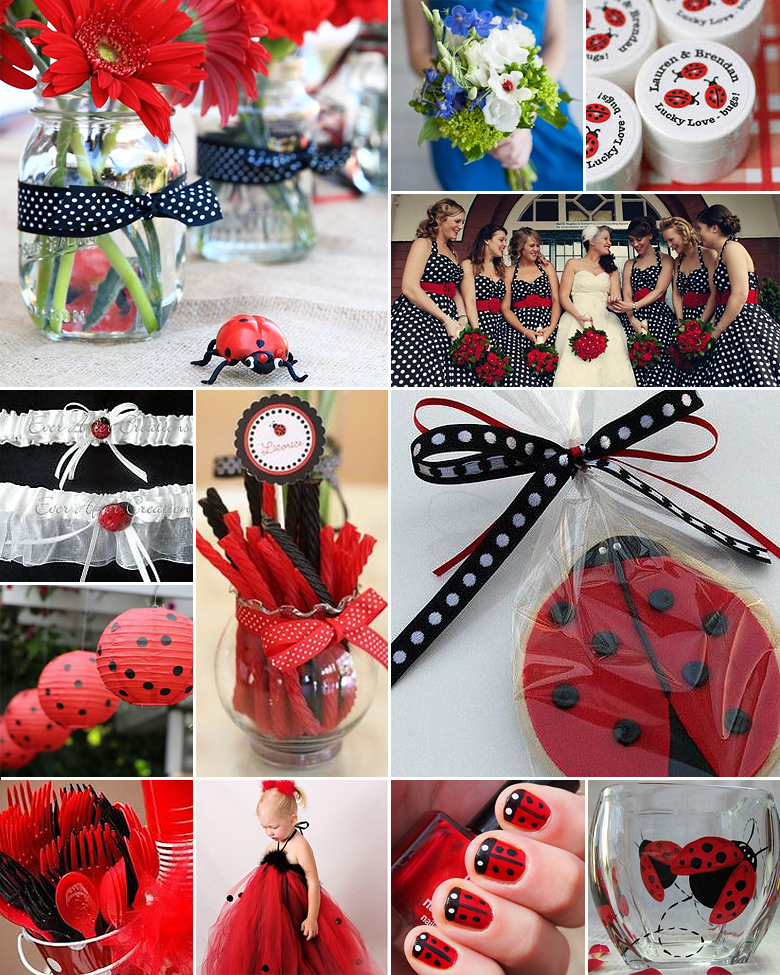 Love bug, lady buy – call it what you will! There's no denying however that this cutesy creature is the perfect emblem for a day of love. For this theme a love of colours red, black and white is essential, and you must adore polka dots. If you don't, you might have to rethink your theme.
Now we're not saying you need to have ladybug figures displayed everywhere – after all, this is not a 3-year-old's birthday party. Rather stick to the colours and the dots, and incorporate them rather in your wedding – subtly.
Let's discuss some options. For instance, choose polka dot dresses for your bridesmaids, serve drinks with polka dot straws and use polka dot ribbon instead of plain coloured ribbon. Have a polka dot wedding cake, polka dot shoes, red Chinese lanterns decorated with black polka dots – you get the idea.
In terms of flowers, red for your bouquet and decor, decorated with black ribbon is guaranteed to make quite the impression. Ad ladybugs in strategic places in your wedding – for instance have two people welcome your guests dressed in the colours of ladybugs, find ladybugs cake toppers, paint rocks to look like ladybugs and place on the tables, outside and in the bathrooms, spoil guests with ladybug cupcakes on your dessert table – heck you can even have lady bugs painted on your nails!
Enjoy the theme and got mad polka dotting everything in sight.
Lady Bug / Bug Products Available in our Store
The requested RSS feed cannot be loaded at this time. This XML document is invalid, likely due to invalid characters. XML error: Undeclared entity error at line 22, column 147
Original images and their credits available on Pinterest