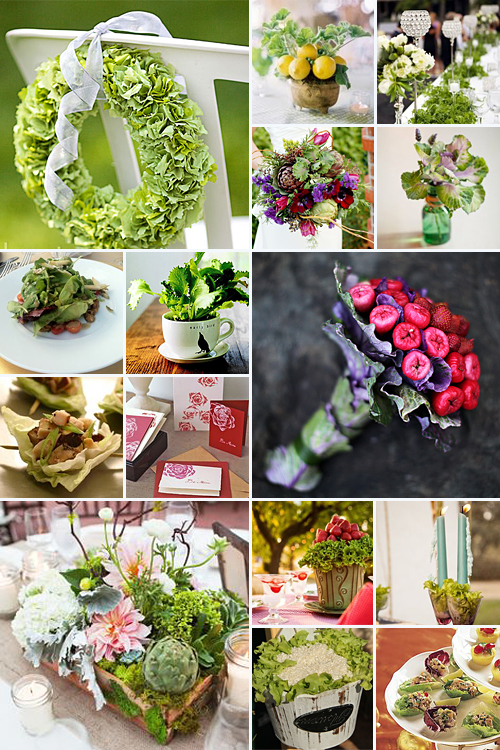 Organic and home grown are the buzz words of the decade, and crisp fresh lettuce fits the bill just perfectly. Whether you use it on the tables, the floor or the plates, one thing lettuce does well is form the perfect basis for all things fresh and lush.
If not used in food or décor, there's always the frilly nature of the leaves to inspire things like your dress, wedding cake, stationery elements and so forth. The most important thing to bear in mind however, is that lettuce can wilt quickly in heat – and let's face it, there's nothing worse than soggy salad.
Here are a couple of interesting ways to make the most of these crispy salad fillers:
Use lettuce heads as part of your centrepieces or incorporate smaller heads into your bridal bouquet as a filler component.
Instead of vineyard or orchard shots, why not consider a photo shoot in the lettuce patch, in a veggie garden? What's more, have the photographer display your rings on a head of lettuce and snap an arty picture.
Create a salad station where guests can build their own leafy creations for starters.
Instead of traditional confetti, have guests scatter dried lettuce leaves for a whimsical foresty appeal.
Scatter lettuce leaves all along the wedding aisle as opposed to rose petals or the like.
For a fresh daytime affair, fill tall vases with water and floating lettuce leaves, to be used as centre pieces and wedding décor elements.
Complement the lettuce with soft frilly flowers like peonies and big headed blossoms such as hydrangeas.
Original images and their credits available on Pinterest