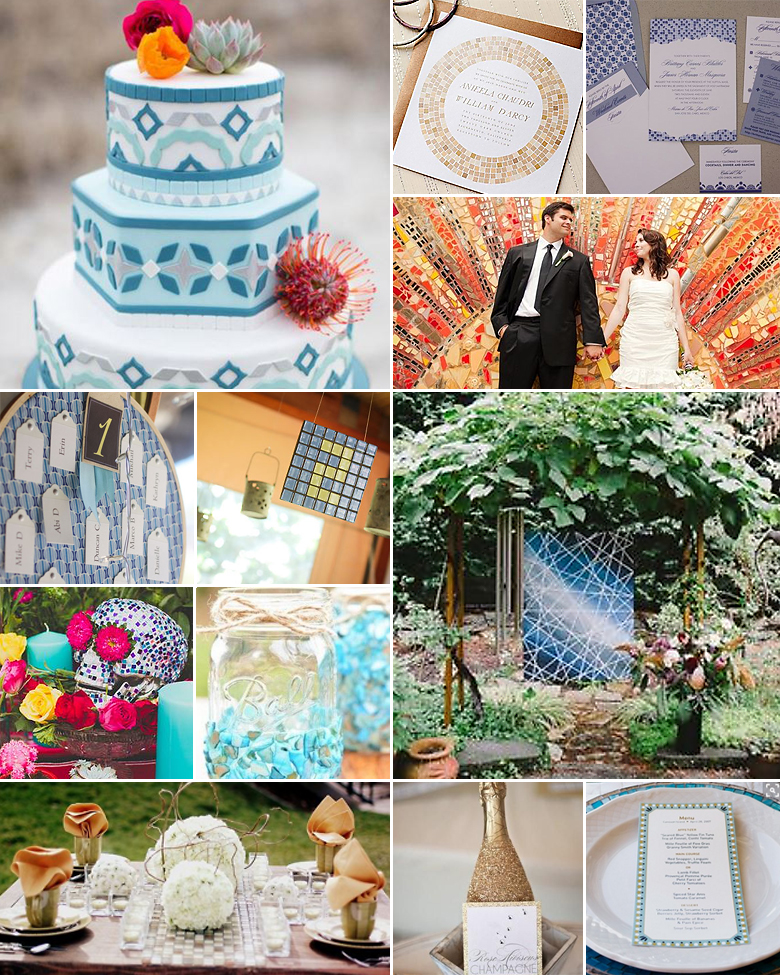 If you haven't yet dabbled in the art of mosaic, what are you waiting for? This interesting art form can allow you to add detail and texture to otherwise smooth and plain objects. Mosaic can be incorporated in any aspect of you wedding but, as with any theme, it is important not to incorporate it in every single nook and cranny:
The cake can be made to look like it's made of mosaic, with the use of multicolorued marzipan.
Opt for bridesmaid dresses with a mosaic patterned fabric or add the fabric as a sash on the dress.
Make your place cards, table numbers and base plates using mosaic tiles, with the place cards and base plates also acting as thank you gifts.
Decorate the wedding aisle with big mosaic tiles to walk on.
At the reception, you can place raw tiles for guests to write short messages on to create a big mosaic board to hang in your home.
Wear mosaic jewelry! Yes, this is in fact a reality.
Candleholders and flower vases can be made from mosaic tiles or glass stained squares.
You don't even have to use mosaic tiles to get the mosaic feel; flowers can be used to create the same effect in the table centre-pieces.
Original images and their credits available on Pinterest