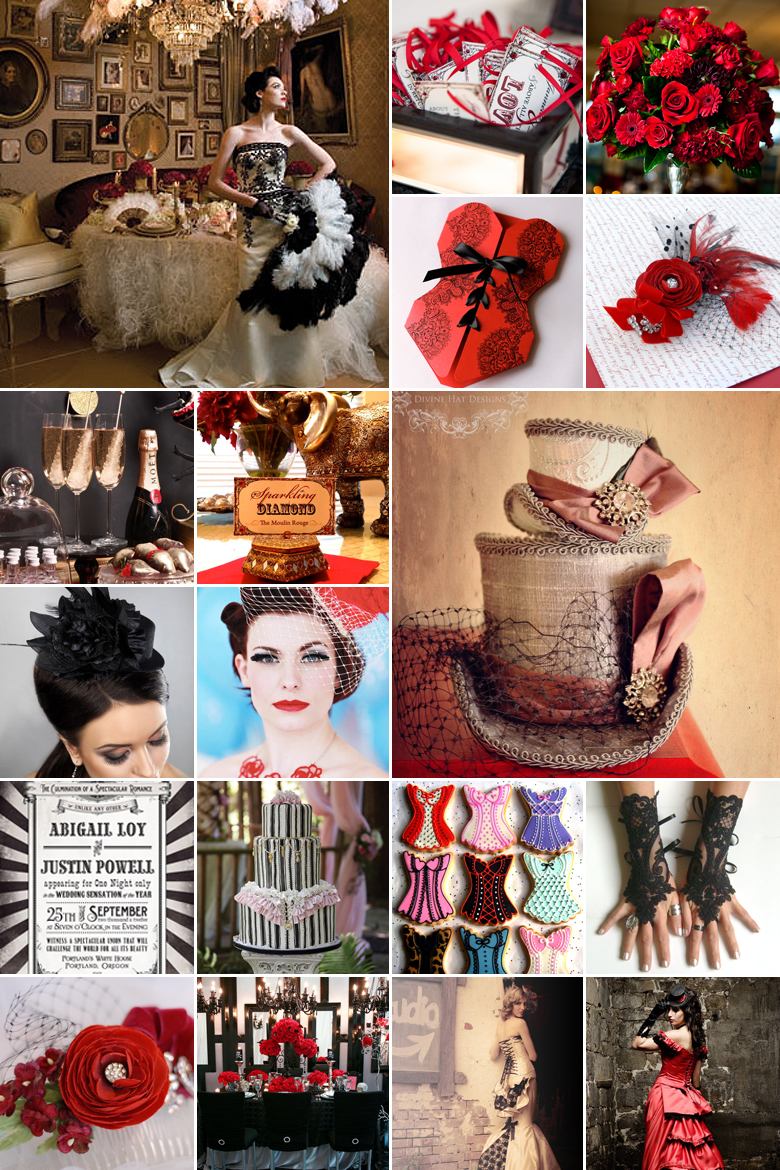 The original Moulin Rouge is a cabaret in Paris dating back to 1889. It was a place for courtesans to conduct their business and for spectators to watch the then-outrageous Can-Can being performed. Since then, the Moulin Rouge has been the backdrop and even the star of films and books written about this era. If you are a fan of the burlesque French era, and want to have a dramatic wedding theme, consider incorporating the Moulin Rouge into your special day.
Both the venue and the well-known movie chose red and black as their theme colours. Therefore, this is an essential colour combination for your wedding. Because of the bold nature of the theme, allow yourself to go 'all out'; this cannot be a subtle affair.
In terms of attire, think corsets, fishnet stockings, feather boas, fascinators, top hats, vests and waistcoats. High heels for women and overly shiny black shoes for men are a must.
Here are some other ideas on how to achieve the perfect Moulin Rouge-themed wedding:
Replace all floral bouquets and arrangements with red and black ostrich feathers.
Have your bridesmaids don authentic cabaret outfits, complete with feathered headdresses (or sequined headbands) and fishnet stockings.
Enter your venue on a red carpet.
Use plenty of red and black balloons and streamers to create the opulence so typical of the original venue.
Serve cupcakes with red and black icing, topped with mini corsets, heels, gents' top hats and long cigarette holders in sugared designs.
Ask your guests to dress the part to complete the look and feel.
Handlebar moustaches and well-oiled hair are musts for the groom and groomsmen.
Make props available for your guests to use while posing for wedding photographs. These can include feather boas, small models of the Eiffel Tower, long cigarette holders, headbands, hats and balloons.
Serve luxurious treats like buttered croissants, cream and cherries.
Original images and their credits available on Pinterest