Moustache Mayhem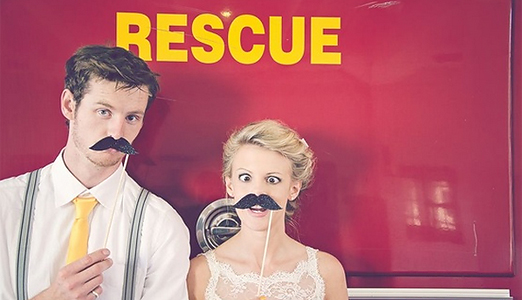 A wedding in Movember really calls for a moustache or two, and not only on the upper lip of the dashing gentlemen attending your big day. Moustaches are the epitome of old world sophistication yet they still have quite a fun and quirky character to them. What's more, these lip toupees come in all shapes and sizes which means you can have that much more fun with them.
Generally moustaches work really well with quirky vintage themes as well as carnival weddings, and also fit right in with cigar-and-wine style receptions. Here are a couple of ideas to show you just how you can go about incorporating them into yours:
Cut a variety of moustache shapes out of brown or black paper, poke a hole in the middle and place it over the sipping end of a straw to add an extra dash of joy to the cocktail hour.
Mount red lips and moustache cut-outs on the ends of a skewer sticks to be used as props in the photo booth. Also have a little fun with moustache props at your own photo shoot.
Request that the grooms men start growing their unique moustaches a month or two before the wedding.
Incorporate the moustache motive into your invitations and other stationery designs – for instance, use paper moustaches to tag each dish in the buffet.
Use a moustache icon to indicate the gents' restrooms and red lips icon for the ladies', or hang the same icons on the back of the groom and bride's chairs or as cake toppers.
Assign a different moustache style to each table (instead of a traditional table number) and print each guest's name on a paper moustache that corresponds with their designated table.
Spoil your male guests with stick-on moustaches which they can flaunt for the night.
Alternatively, provide your guests with a moustache sticker pack and encourage them to sticker-bomb the reception venue. You can even consider awarding a prize for the most creative use of a moustache sticker.
Use paper moustaches to decorate everything from naked light bulbs, macaroons and ice buckets to glasses, napkin rings and seat cushions.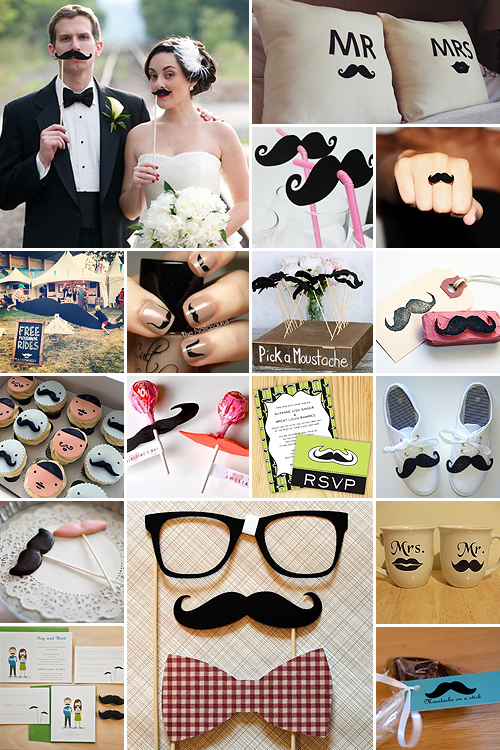 For more ideas on Moustache Inspiration or to check out the original photos displayed above and their credits, make sure to check out our Moustache Inspiration Pinterest Board!