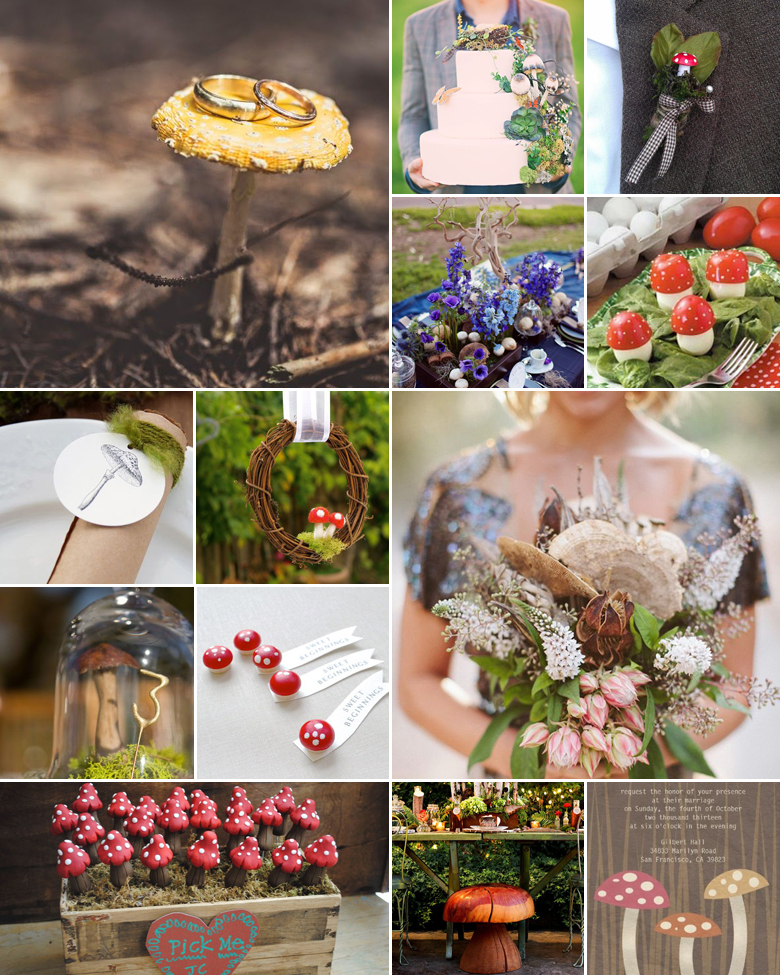 Mushrooms are as delicious to look at as they are to munch! Commonly associated with all things whimsical and enchanting, mushrooms bring an element of mystery and woodlands magic to the table. What's more, their earthy character and delicate appeal make them an ideal addition to any rustic or organic wedding style.
Aside from adding actual mushrooms to your wedding day theme, you can also draw inspiration from the many colours and patterns that adorn these natural pretties. In fact, there are quite a few ways to work a little mushy-magic into your big day:
Visit your local nursery and buy a couple of mushroom "plants" to be used as centerpieces on the guest tables.
Opt for a mushroom inspired wedding cake, covered in a variety of fondant mushies and flowers, and top it off with two big mushrooms.
Deck the desert table with mushroom-shaped and decorated cupcakes, macaroons and cake pops.
Add a touch of fun to the cocktail area with mushroom shaped foot stools and cushions for guests to relax on.
Garnish the welcome drinks and champagne flutes with mushrooms – make a slit in the stem and slide onto the rim of the glass.
Incorporate mushrooms in your bridal bouquet and other flower arrangements.
Decorate stationery items with printed mushroom patterns.
Dress your little flower girl in an outfit made with mushroom printed fabric.
Serve indulgent mushroom canapés and be sure to include this delegate ingredient in most of the main food offerings.
Original images and their credits available on Pinterest