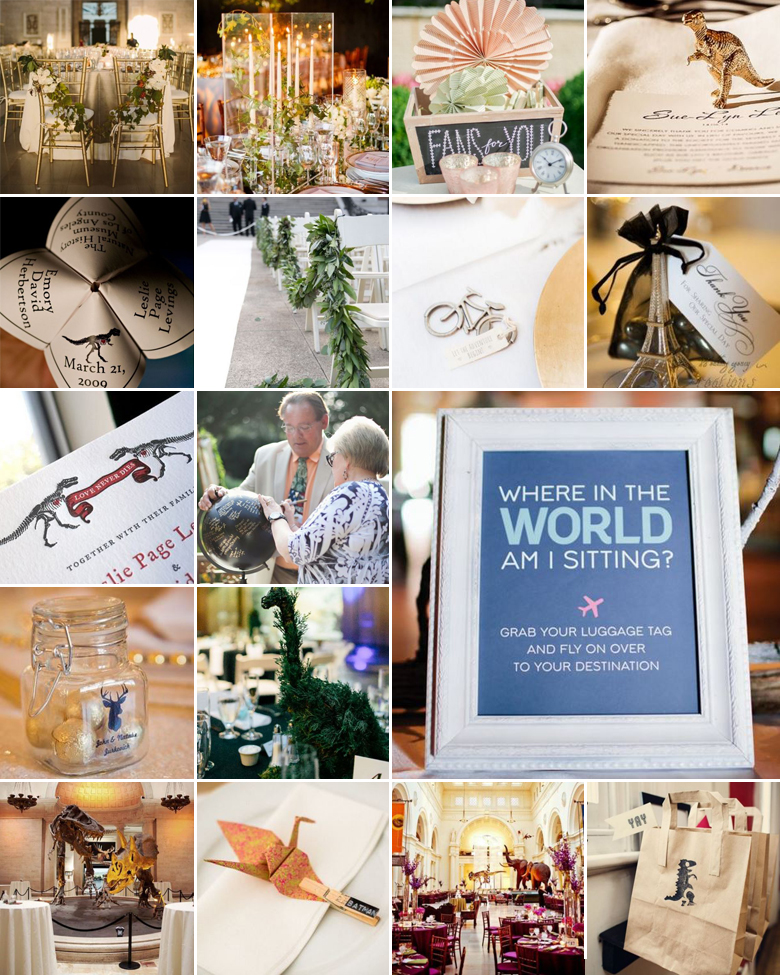 You've been obsessed with the museum your entire life – so why not make it the scene of your wedding day? Then again, if the museum isn't exactly open for a party, consider theming your wedding accordingly.
Opt for a venue that has a vintage look and ambiance about it.
In terms of the colour scheme, shades of brown will be an excellent colour scheme for this wedding. You can add another colour of your choice to give a modern twist to it.
Think old, brown, art, maps, animals, skeletons and all things vintage.
Then again, with a theme this wide, you might want to focus on one part of the museum and make that your theme:
Extinct animals – cardboard cutouts and laser cut shapes can be used as centerpieces on your tables or they can be used as props in your photo booth.
Maps – use an old globe as an alternative to a guest book, and allow your guests to write their messages on. What's more, the dance floor can feature a projection of a map of the world.
Art – opt for hand-painted china, and hang large portraits at your reception venue. Then again, why not have a photo booth with an olden day portrait backdrop or frame?
Old artifacts – think coffee stained wedding invitations and old stamps.
Museum-inspired Products Available Now
The requested RSS feed cannot be loaded at this time. This XML document is invalid, likely due to invalid characters. XML error: Undeclared entity error at line 22, column 68
Original images and their credits available on Pinterest