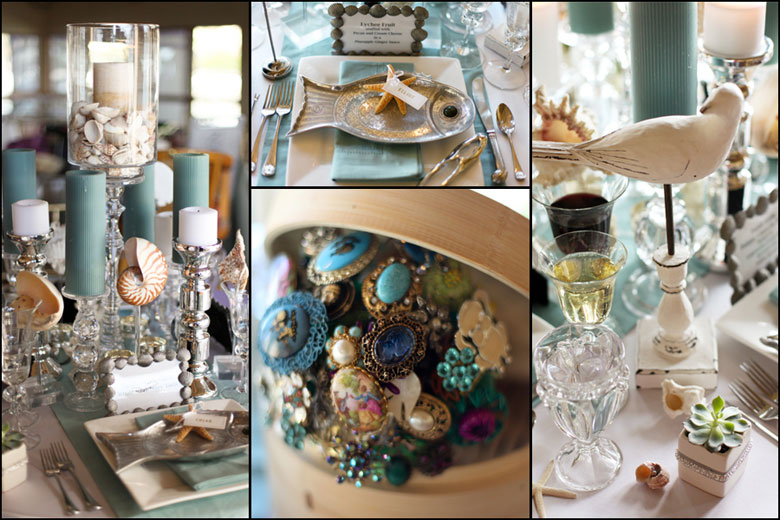 For many of us, the ocean holds a certain mystical beauty to it. It represents nature in its wildest and its most serene, instilling in us a sense of both tranquility and adventurous admiration. For brides- and grooms-to-be that want to incorporate such natural splendour into their big day, there is a range of tasteful ways to do so. You may choose to carry the sea-theme through in quite an obvious way (by the use of shells, sand, fishing nets, and so on) or in a more subtle way (by combining colours that are reminiscent of the ocean, for example).
Printed items
Set the theme by sending out invitations that have reference to your ocean 'motion'. These can be designed using shells, starfish, netting, sand, yachts, or seagulls. Be creative, but ensure that your design of choice is tasteful and unlikely to date over time.
Carry this theme through to all of your printed items; including your programmes, place cards, menus, thank you cards, and so on.
Venue
To incorporate the sea into your theme, it is optimal to get a venue that is either close to the beach or one that has an ocean view. You could also choose a combination – have your ceremony and vows on the beach and then move inside for your reception party. If you would like an outdoor beach wedding, but do not want to get sandy, opt for a pier or jetty.
For couples that do not live at or near the beach, consider a location wedding that requires all of your friends and family to join you at the coast to celebrate your wedding.
Wedding Attire
There is such a wide array of options available in the way of wedding attire today that brides really are spoilt for choice. However, it is generally not wise to wear a heavy, puffed out, clingy wedding dress and suit if you are going to be outside a lot. This will only make both of you hot, sticky and uncomfortable. Consider light linen fabrics, shorter lengths (for the bride and her bridesmaids especially) and open, flat shoes (or none at all). The groom and groomsmen will look great in beige, white or stone-coloured linen suits with open collars.
If you opt for a shorter wedding dress, ensure that your bridesmaids' dresses are the same length or slightly shorter.
Reception
Decorate your reception venue with ocean-based items that are still beautiful and elegant. Bright, exotic flowers offer great accent pieces, reminiscent of Hawaii chic. Hibiscus, Tulips and Blue Chip Campanula are also fantastic options. These can be used in your bouquet and on your tables too. Your centrepieces can be really different and fun. Consider sandcastles, brass bells from a boat, model yachts or lighthouses. Chinese lanterns are another fun option, particularly if you have chosen a Bohemian-style or tropical beach wedding.
Wedding Cake
There is no end to the options available for ocean-themed wedding cakes. Subtle nuances can be made by using the colours of the sand and sea, or more obvious references can be achieved by the use of fishing scenes, underwater themes, and so on.
Guest Gifts
Because an ocean theme is actually a large part of the attraction of the day, it is a good idea to include it in the gifts to your wedding guests. Whatever gift you choose, ensure that it has some element of the ocean attached to it, whether it is pewter fish key rings or your favourite seafood recipe.
Photo Credit: blog.tbdress.com