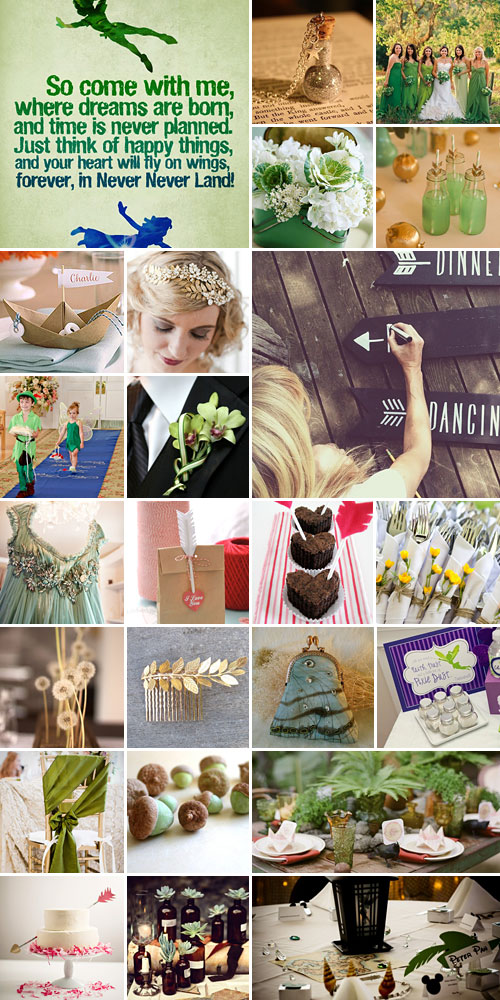 Fairy tale themes are something worth treasuring, as it truly melds childhood memories and romance in a way that captures the heart of one and all. And this theme is no different – after all, Peter Pan is all about never growing up and keeping that child in your heart alive.
Flying décor pieces will be a given – hanging flower arrangements, laser cut silhouette decorations and so forth – and the key is to keep everything from the ceremony to the speeches fun and light-hearted. In terms of colour scheme, opt for dusty shades of green, olive and blue with dashes of sparkle and metallics. Here are more ideas to set your mind afloat:
Dress your ring bearer and flower girl like Peter and Tinkerbell.
Fairy dust should play an integral part in your wedding day – whether you scatter sequins on the tables, use glitter as confetti or decorate your stationery with bling dust.
Incorporate Peter Pan arrows into your stationery and décor design as well as stars, boats and feathers.
Draw inspiration from the lush greenery of Neverland by creating stunning centrepieces and bouquets out of ferns and green flowers like orchids, hydrangeas and lilies.
While you don't want drunken pirates at the wedding, you can definitely add a couple of empty wine bottles to the list of DIY décor – use for anything from candle holders to vases.
Light the venue with fairy lights and drop the ceiling with white, black and olive draping for a whimsical Neverland ambiance.
Original images and their credits available on Pinterest