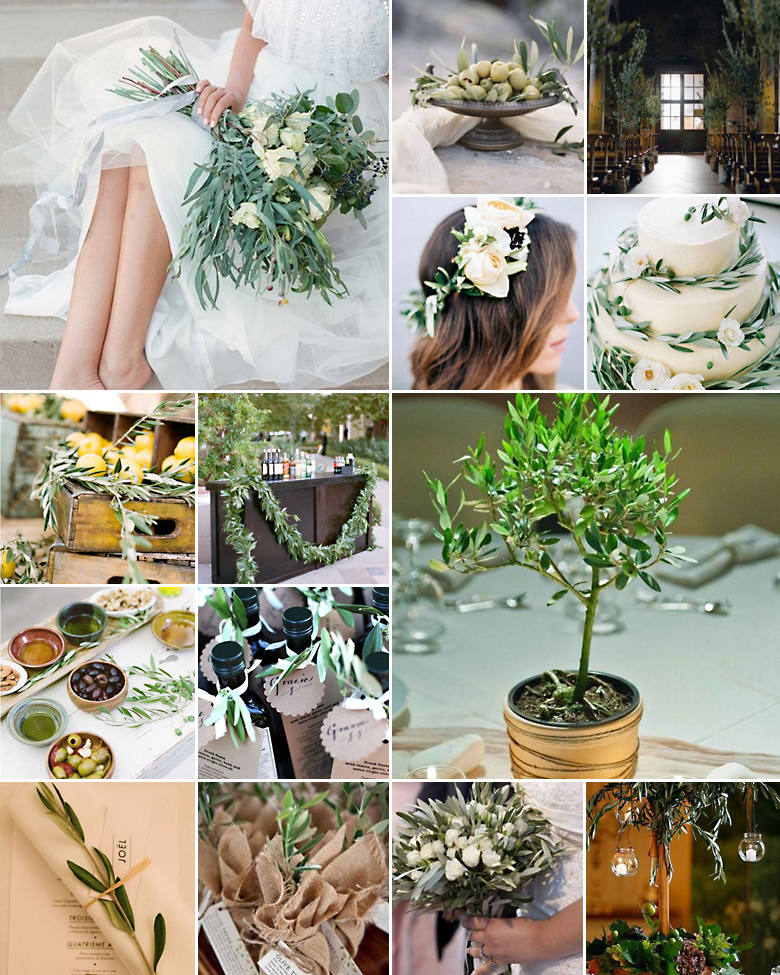 Olives! Even if you loathe the fruit, you can't deny the fact that it's synonymous with all things organically sophisticated. In fact, the olive is probably one of the few "fruits" that tick just about any theme/style box: Rustic, elegant, chic, stylish, glamorous, whimsical, organic, and the list goes on and on.
Aside from munching, there are many ways in which the olive can feature on your big day:
Silvery olive branches are the ideal floral accompaniment and work well with flowers like peonies, roses and ranunculi. Then again, these branches are so striking, they could just as easily stand alone and replace the flowers altogether.
Spoil olive lovin' guests with mini baskets full of fresh olives, small bottles of olive oil or jars of preserved goodness.
Combine olive green with crisp white, shades of grey and silver for a stunningly fresh colour scheme, or add pops of colour in the form of blush pink and powder blue.
Fill confetti bags with olive leaves and hang olive branches from the ceilings and chandeliers.
Incorporate the olive branch motive into your stationery designs and decorate the wedding cake with olives and vines.
Host your wedding on an olive farm (preferably under the silvery trees or in a rustic barn) and head out to the orchard for your photo shoot.
Even the simplest canapés like toasted bruschetta or a caprese salad can be turned into calinary taste explosions with a simple drizzle of olive oil. You can also serve olive and cheese taster boards with a selection of wines as your starter.
Original images and their credits available on Pinterest