We've rummaged around in Gran's China cabinet and revived old vintage plates, brought out her old typewriter, reused old heirlooms and refashioned her old wedding dress, so it was really only a matter of time before we raided dear old Grandmother X's sewing basket too.
A sewing theme makes the perfect DIY wedding theme because, even if you're not exactly sew-savvy, anyone can pull it off without so much as a hitch. The secret to this theme really lies in the imperfections: large visible blanket stitches, crookedly sewn hearts and worn cotton spindles. Aim to create that authentic, home made feel, even if it means getting everyone from Gran and the bridesmaids to Dad and the grooms men involved.
Use crocheted doilies as place mats, instead of a contemporary under plate.
Incorporate the stitching pattern (- – – – – – – – – – – – – -) into your invitation, place card and other stationery designs.
Decorate your tables, name cards and what not with odd buttons and bits of ribbon.
Bake button-shaped biscuits for guest favours and pack them in tiny little tins that are reminiscent of button boxes.
Make fabric and felt flowers for your bouquet, boutonnières and wedding cake decorations.
Use scraps of material and sew "patches" onto your table cloths using big blanket stitches.
Make a quilt or embroider a sheet with a special quote to use as backdrop for your wedding photos
Use old dressmaker dolls and mannequins as props in your photo booth.
Instead of a guest book, let each guest write a message of congratulations on a piece of fabric. After the wedding ask Gran to make a quilt out of the little fabric squares.
Fill old fashioned glass jars with odd buttons to use as table decoration.
Sew or embroider each guest's name onto his place mat or napkin which he/she can then take home as guest favour.
Make crooked fabric heart shaped cushions and hang them all over the place.
Wrap your name tags around empty wooden cotton reels and use them as place cards.
Use the "fray technique" around the edges of your place mats, table cloths and even your dress – it's a simple and lovely way of breaking the otherwise clean lines.
Embroider your table numbers onto piece of fabric, but don't take it off the embroidery hoop and rather use the hoop as part of the element.
Decorate your wedding cake with fabric flowers and "stitching" all along the edges of the tiers.
Rummage around in second hand shops for old dressmaking patterns. These can be used for anything from wedding invitations and menus to table coverings and guest favour wrapping.
Check out the gallery of photos below for some ideas on how to pull this wedding theme off.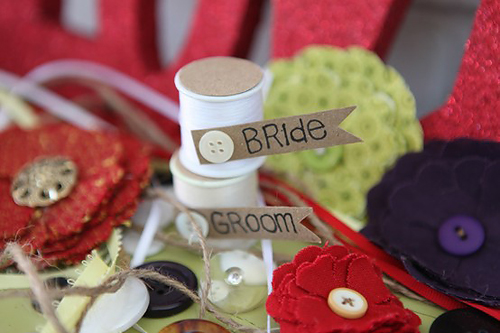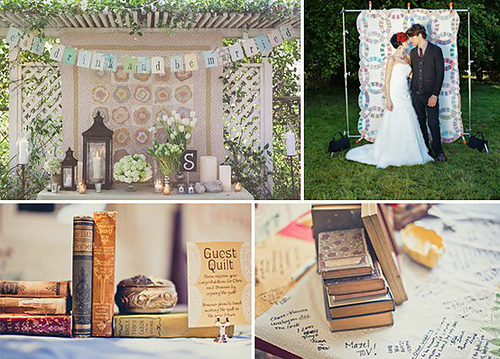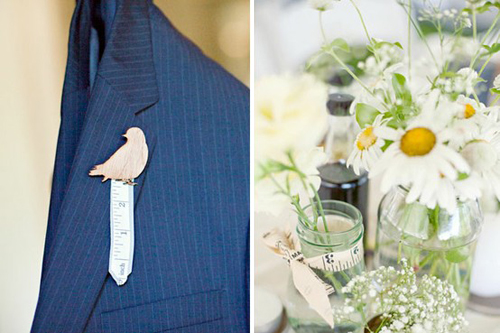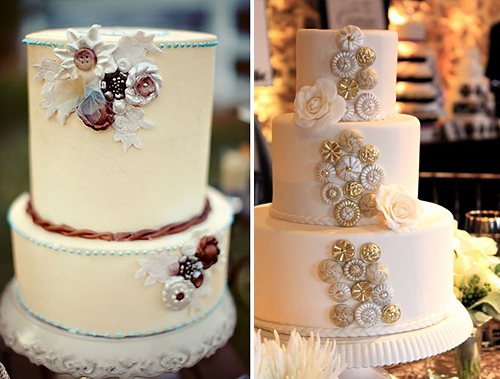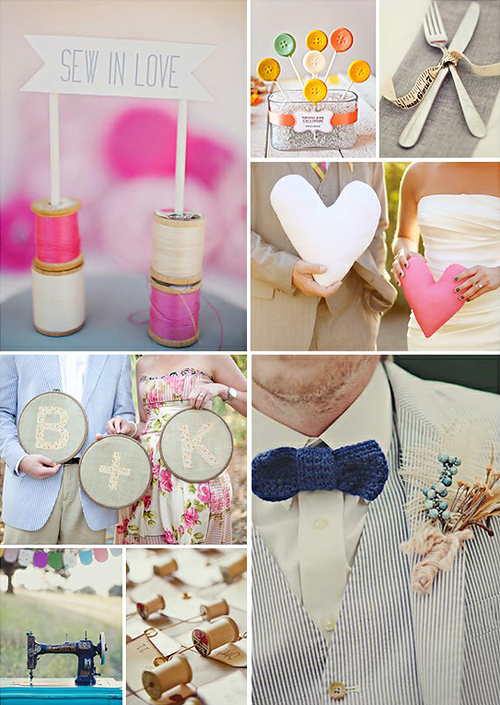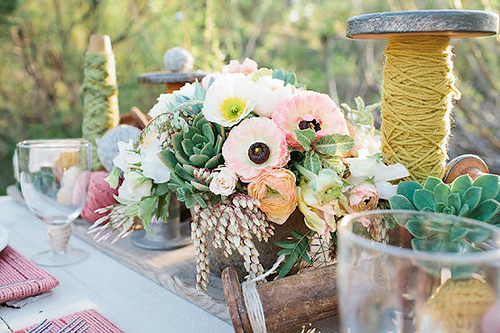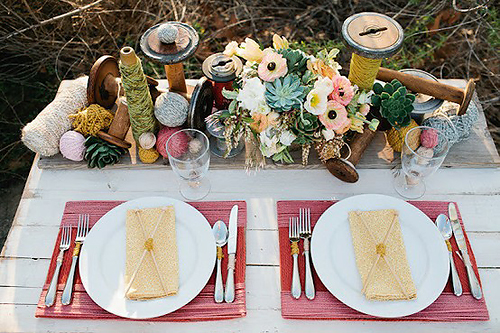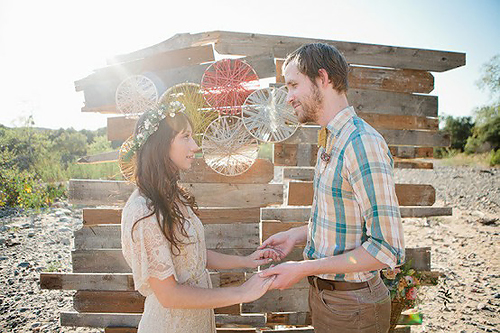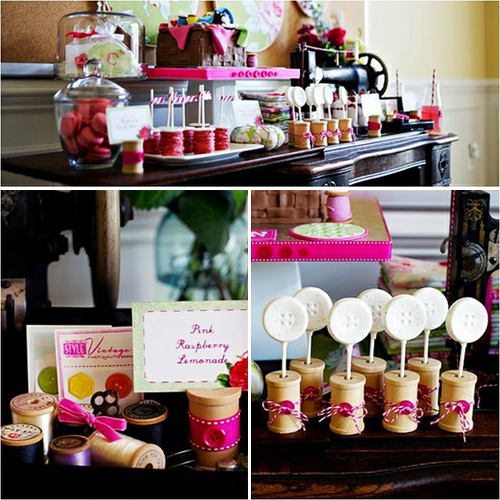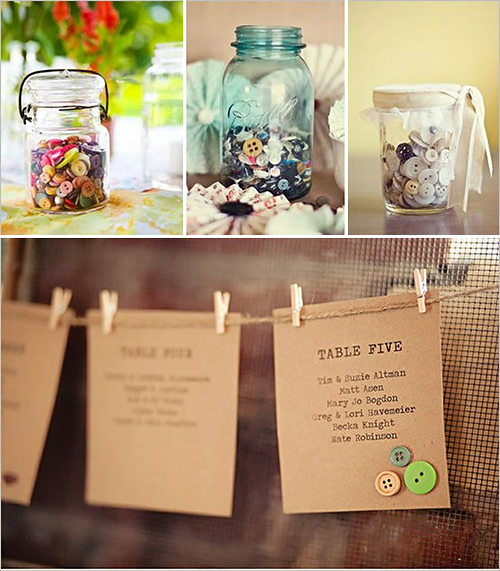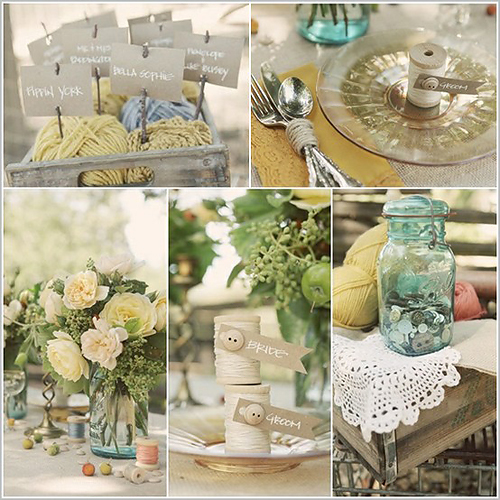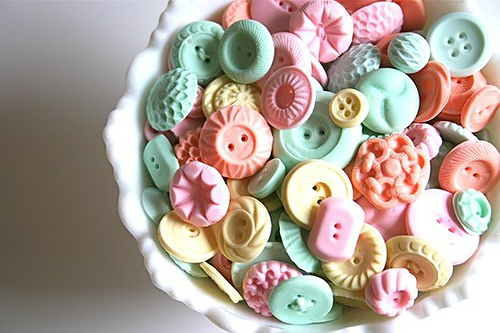 For more ideas on a Sewing Wedding Theme or to check out the original photos displayed above and their credits, make sure to check out our Sewing Wedding Theme Pinterest Board!