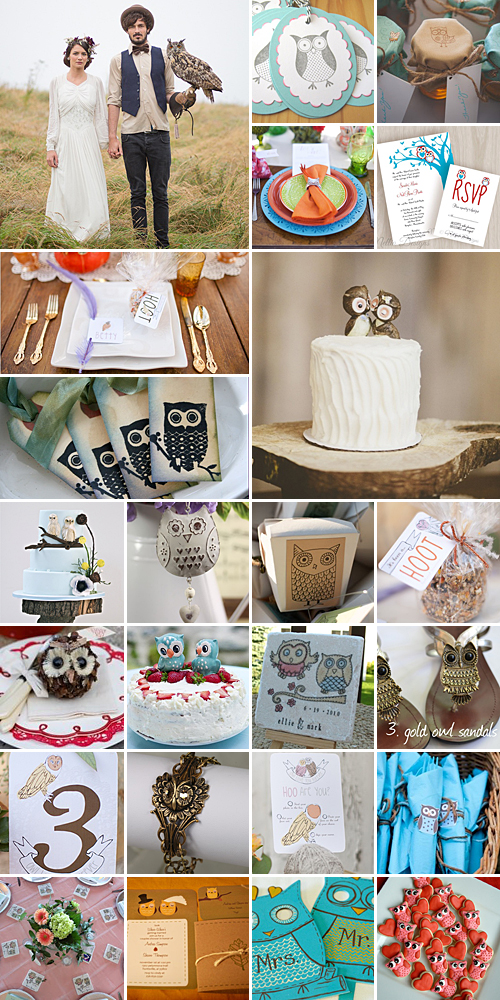 In some cultures the owl might be considered a bad omen, but when it comes to décor and design, this feathered creature is pretty much the king of the aviary! When incorporating the owl into your wedding day, remember that owls don't work with just any style of wedding and are best suited to vintage, DIY or any kind of fun and relaxed wedding theme.
Nowadays owls are available in all shapes and sizes, and your local craft market should stock anything from ceramic owls to those crafted from the finest metals – here are ideas to really own the owl:
Use ceramic owl figurines all over the place – as part of the table décor, on the buffet tables, in the wedding pictures, you name it!
Make owl shaped biscuits and serve them guest favours, as part of dessert or just for general snacking. These cutesy bites can also be strung from the chandeliers over each of the tables, after which the waiters can snip ribbons and pack the owl biscuits in little favour boxes.
Incorporate the owl design into your stationery elements – from the invitations to the thank you cards. We especially love hand illustrated owl designs!
Alternatively invest in a simple owl of feather shaped ink stamp and make your own cost-effective stationery.
Use two little owl figurines, cut outs, wire frames or felt shapes as cake toppers. If you're one for quirks and gimmicks, dress each little owl in mini bride and groom attire.
Hang colourful paper owls from the walls and ceilings or make pretty owl bunting to decorate your venue in owlish whimsy.
Look around for cute owl jewellery and accessories to add to your bridal ensemble or, if that's a bit too literal for your taste, opt for feathers!
Instead of traditional confetti, have your guests scatter birdseed over your heads! Not only does it symbolise fertility and prosperity, but the birdies in the trees will be all too chirpy about it too.
For more Owl Wedding Theme ideas, the original photos above and their credits, make sure to check out our Owl Wedding Theme Pinterest Board!