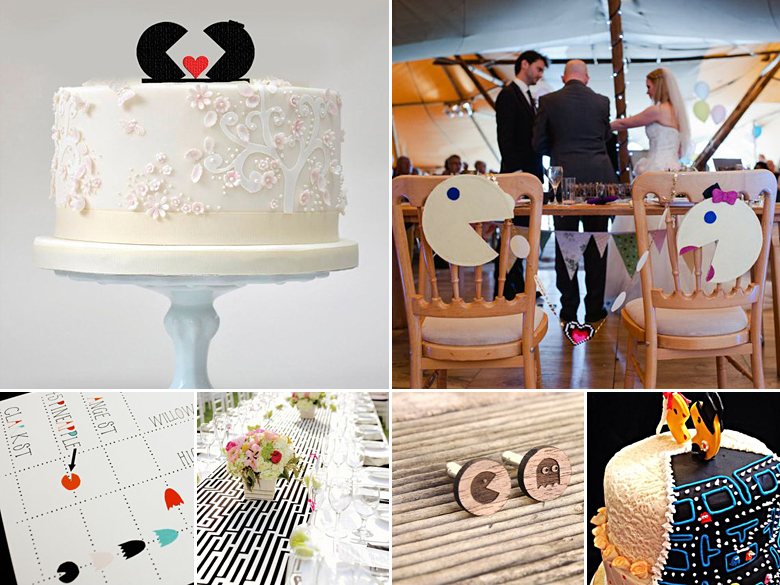 Pacman is one of those classic games that every one of your guests will remember and appreciate! Building a theme around this classic arcade game is therefore an excellent way to add an element of fun and quirkiness to your wedding day, without losing out on nostalgia.
Set up a couple of vintage consoles for guests to battle each other in a game of Pacman while you're off on your wedding photo shoot.
Use Mr and Mrs Pac signs to decorate the bathroom doors and indicate Male and Female.
Top off your wedding cake with cute laser cut Mr and Mrs Pac perspex cake toppers.
Incorporate the classic dot-dot-dot pattern into various aspects of your wedding day – especially the stationery elements.
Commission a Pacman inspired wedding cake, complete with black icing and white dots.
Remember the classic little Pacman fruits that would get your rich rewards? Well why not use real life versions to decorate the guest tables – fresh apples, grapes, bananas, you name it!
Fill the dessert table with Pacman decorated cake pops and cupcakes.
Spoil your entourage with cute little brooches – Pacman for the grooms men and Mrs Pac for the bridesmaids.
Keep an eye out for Pacman printed fabrics which you can use to make the flower girl dress, cut out napkins or napkin rings, and so forth.
Add a quirky touch to your own bridal ensemble with a Pacman inspired necklace, earrings or bracelet.
Original images and their credits available on Pinterest