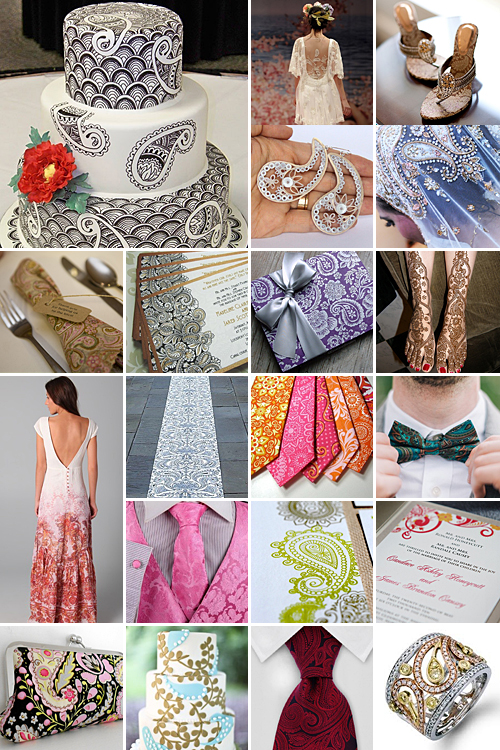 Inspired by the colours and tones of vibrant India, paisley is one of those designs that just have a way of adding that element of "richness" to a wedding. Because paisley is quite a 'busy' design, less is definitely more in this scenario – so use it sparingly to add vibrant splashes of colour and visual texture to the occasion. Also be careful of using clashing patterns and colours that could ultimately create visual mayhem – pace yourself with paisley.
The lovely teardrop shaped paisley design can be found in just about any colour under the sun, and especially work well with rich jewel tones, dusty pastels and neutrals. However, because not all paisley designs are exactly the same, you might have to have your elements and design custom made, so if you're on a tight budget, think twice before allowing your heart to fall madly in love.
Paisley can be incredibly dramatic and bold (when two striking colours are combined) or soft and subdued (when using dusty pastels of nearly a similar shade). So choose your ambience before choosing your paisley.
Complete your bridal ensemble with an elegant paisley shawl – especially perfect for a winter wedding.
Remember: Paisley doesn't always imply full colour, so have the design incorporated into your white wedding dress by means of embroidery, pearls or sequins. The texture alone will make it pop instantly.
Choose a paisley print paper for your wedding stationery and invitations or be a bit more extreme and use paisley fabric instead.
Add elements of paisley to your wedding cake design or have a paisley teardrop iced on to cupcakes.
Jazz up the gents' outfits with cute paisley ties, bow ties or (if you're really feeling the hippie Indian vibes) a paisley waistcoat.
Adorn your tables with paisley table runners or choose a paisley aisle runner to complete your ceremony venue.
Keep an eye out for paisley inspired jewellery and accessories, like a stunning statement necklace, bracelet, shoes or hairband.
Go all-out Indian with paisley body paint (Henna) on your hands and feet.
For more Paisley wedding ideas, original photos above and their credits, please check out our Paisley Wedding Theme Pinterest Board!