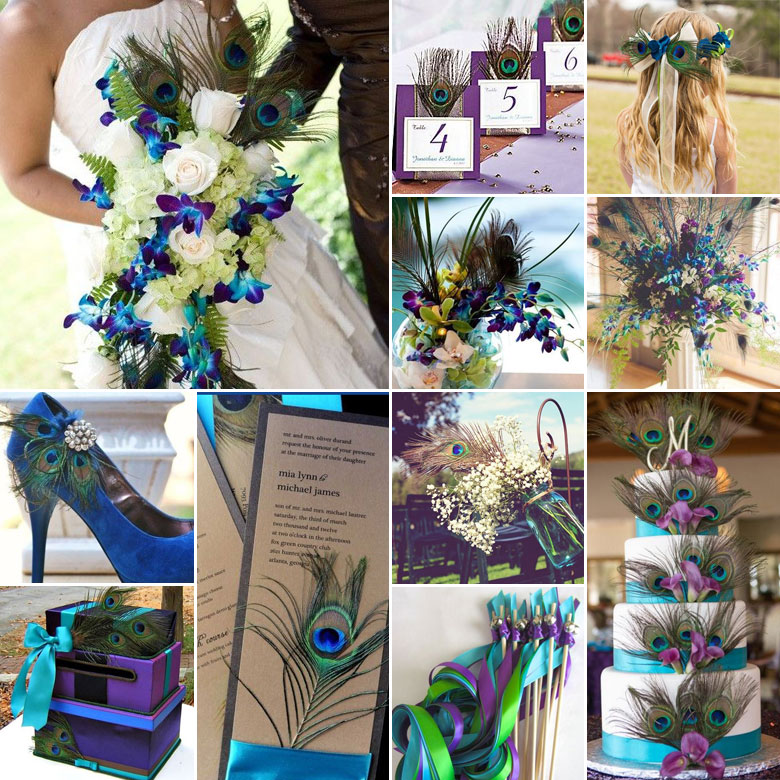 You're bright, you're bold and you love a spot of colour! Peacock feathers have your name written all over it, and we just adore the sense of opulence it lends to the wedding day. More than just feathers, these simple yet striking décor elements will also dictate the colour scheme for your wedding day, blending bright shades of indigo, violet and emerald to create a visual feast.
Use peacock feathers for the boutonnieres, and add a handful to your own bridal bouquet.
For the place cards, tie a card with the guest's name around a peacock feather and lay it down across the napkin.
Incorporate peacock feather prints into your stationery designs, and if you're up for it, use printed fabric for the flower girl dresses.
If you have the heart to cut up peacock feathers, use the snippets of feather as confetti on the day.
Bathe the venue in peacock coloured lighting, changing it from one colour to the next as the night progresses.
Dress the bridesmaids in the three different colours – one in blue, one in green and one in purple.
Add pops of peacock colour to your bridal ensemble in the shape of indigo shoes or violet nails.
Original images and their credits available on Pinterest