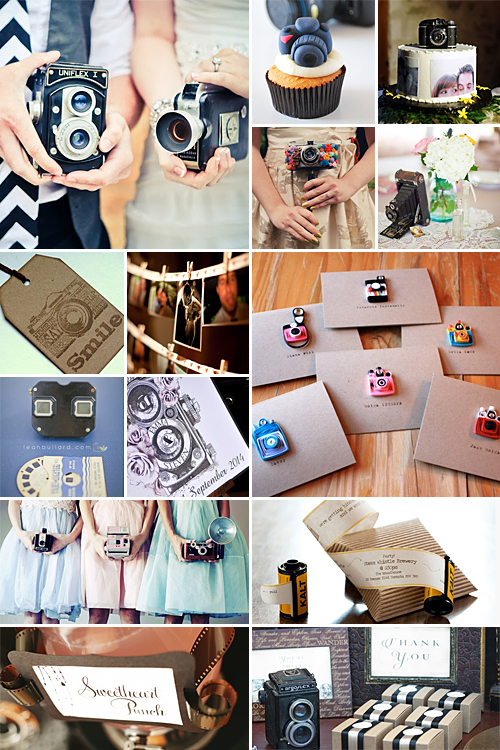 Dear photography fanatic, we know you're probably cringing at the thought of not photographing the most stunning and memorable wedding of all time – yours – but darling, we'll do you one better! This delightfully playful theme is right up any photographer's alley and is the ideal way to express your passion without having to man the camera all night long.
A photography theme is really all about expressing your love of breath-taking and thought-provoking photography. Whether it be displaying your love stories in pictures or hanging photo frames from the ceiling – the key is to make it your own. Here are some examples of photo-ready ideas:
Decorate your stationery with the characteristic film strip border or better yet – put old pieces of over-exposed film to good use as stationery or venue decoration.
Incorporate old vintage cameras into the wedding day décor – use them as centre pieces, cake toppers or props in the wedding photo shoot. In the latter case, let your photographer take a picture of you taking a picture (if that makes sense!)
We love polaroids! Set up a polaroid photo booth or make a giant polaroid frame out of wood or heavy card board and let guests go bananas behind it in front of the camera.
Instead of a normal printed menu, have yours made into mini slides that guests can view through a view master. This little device also makes for an excellent guest favour, in which case you can have the photo booth pictures made into slides – a lovely memento!
Place disposable cameras on the tables and hang signs around the venue that encourage guests to "smile!" and "say cheese!"
Get nostalgic! Hang enlarged black and white pictures of your parents'/grandparents' wedding day on the venue wall, and consider recreating one of their most treasured wedding pictures.
Original photos and credits available on Pinterest.