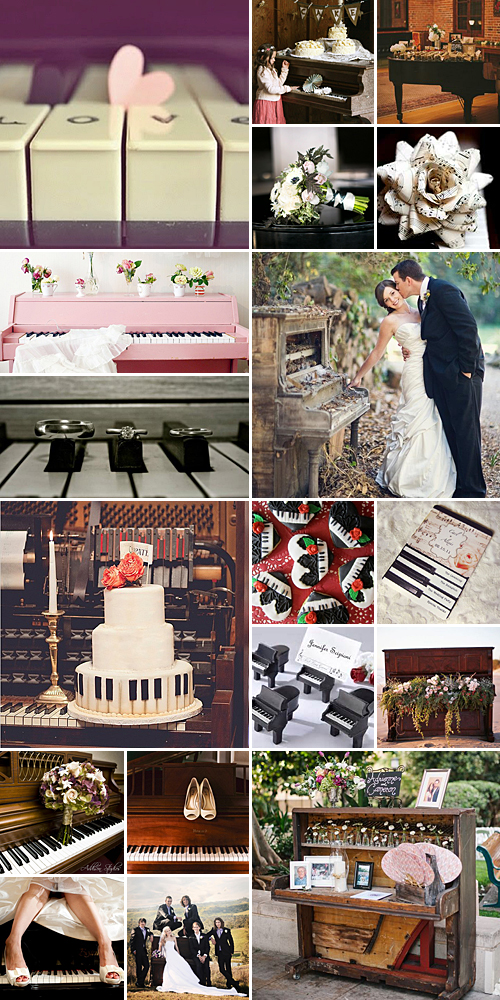 Perhaps you're inspired by the velvet tones of a grand piano or maybe you prefer to shake your booty to the melodic beats of a honky-tonk. The fact is if piano music forms an integral part of your life, it stands to reason that it should be the life blood of your wedding day.
The key (excuse the pun) to pulling off this theme is using plenty of black on white – for instance, white table cloths with black runners and accents, and a white frosted wedding cake with striking black details. Just follow your instincts and follow the music, and you can't go wrong:
Enlist the services of a grand pianist to accompany you while you walk down the aisle as well as set the mood during canapés.
Dress the groom and groomsmen in snazzy slim cut black suits with crisp white shirts, and be sure to add small black accents to your white wedding ensemble.
If one or both of you are skilled at playing the piano, serenade your partner during the ceremony or plan your photo shoot around a classic old piano.
Incorporate musical notes into the stationery designs, décor and dessert table; For instance, use bits of old sheet music as place cards or cut it up for confetti.
Fill the dessert table with white candies and treats, as well as black favourites like liquorice rods and dark chocolate. We also love the idea of using a grand piano as display table for the desserts and wedding cake.
Use an old dilapidated piano or keyboard for your table plan and simply list the guests' names on the white keys.
Original images and their credits available on Pinterest