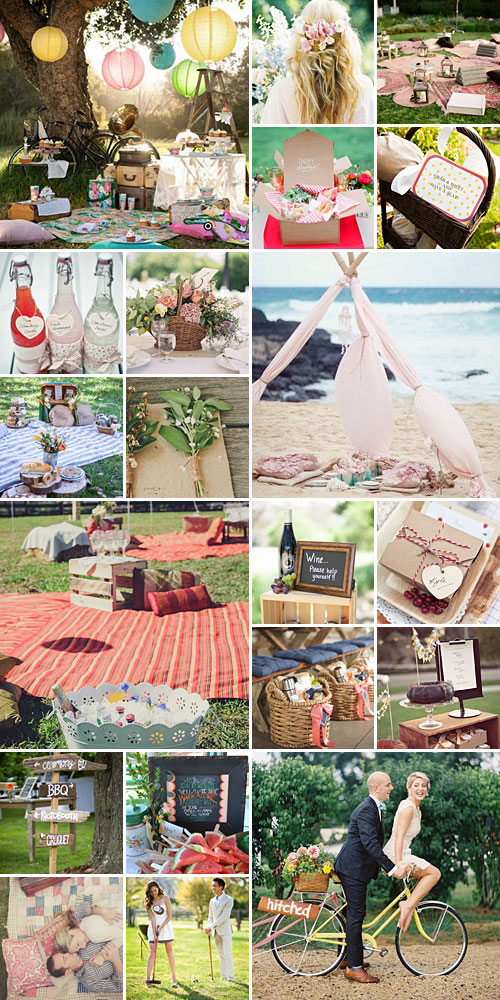 If you want a fun, stress-free planning process, then you must really consider having a picnic wedding. A picnic wedding is small and cozy, with cute decor elements and fun foods. And the natural setting will be a gorgeous backdrop for wedding photographs.
A picnic wedding can be held indoors or outdoors. Be sure to have a plan B if you decide on an outdoor venue. Marquees and tents will work great with an outdoor venue. If your reception takes place in the evening, fairy-lights draped around trees or candles placed in jars will create a romantic ambiance. Visit our decor and hiring categories for more info on these items.
Choose colours like green, yellow or light-blue to go with the natural setting, or go for a traditional picnic style with red checkered tablecloths.
For wedding favours you can have small picnic baskets with treats for each guest. Picnic foods can be anything from fruits and sandwiches to cupcakes and pies. Keep small bottles of drinks in tin buckets filled with ice so that guests can help themselves. Lemonade is a popular picnic drink.
You can really make this theme your own! Have fun!
Original images and their credits available on Pinterest