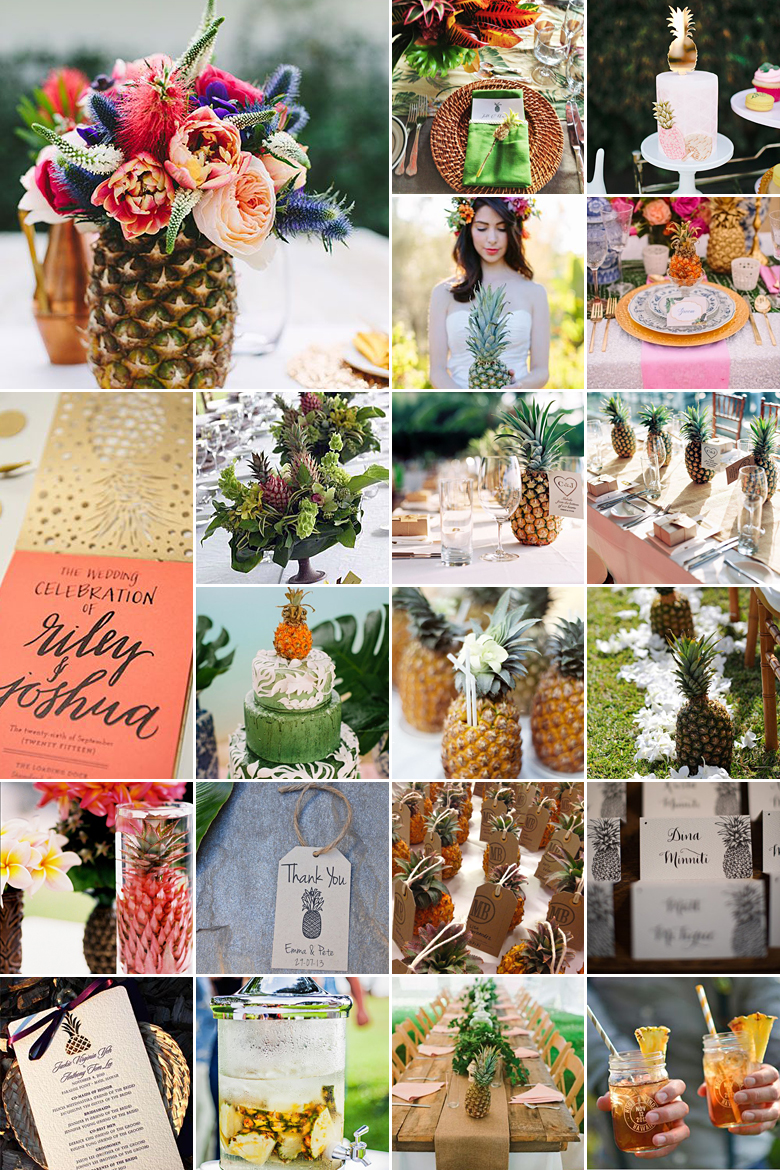 We're feeling fruity for pineapples and all things tropical this season! Previously a mere ingredient in your morning fruit salad, pineapples are actually a symbol of hospitality and friendship, adding a quirky and fresh touch to your wedding day.
Now the trick to pulling off this theme (without it steering too far into kitchy Hawaiian territory) is to strike the perfect balance between tropical flair and rustic simplicity. For starters, you'll want to use the muted colours of the pineapple as inspiration for your colour palette – think pale oranges, yellows and greens.
To build on this, complement the pineapples with other exotic elements like palm leaves, delicious monsters and hibiscus. These tropical influencers can then be balanced out with rustic elements like raw cotton, burlap and hints of faded green and gold. Here are some more ways to incorporate the pineapple with pure grace:
Serve deliciously refreshing pineapple cocktails, garnished with pineapple cubes, as your welcome drinks or instead of a champagne toast.
Alternatively use hollowed pineapples to serve beverages in or use it as a make-shift flower vase.
Invest in a pineapple ink stamp and use it to decorate the various stationery and décor elements – from the menus to the napkins.
Use large pineapples as part of the table décor – whether it be with flowers or instead of flowers.
Pack the dessert tables with exotic pineapple treats like upside down cake, pineapple, cheesecake and macaroons.
Use quirky pineapple printed fabrics and scatter cushions to brighten up the venue.
Original images and their credits available on Pinterest