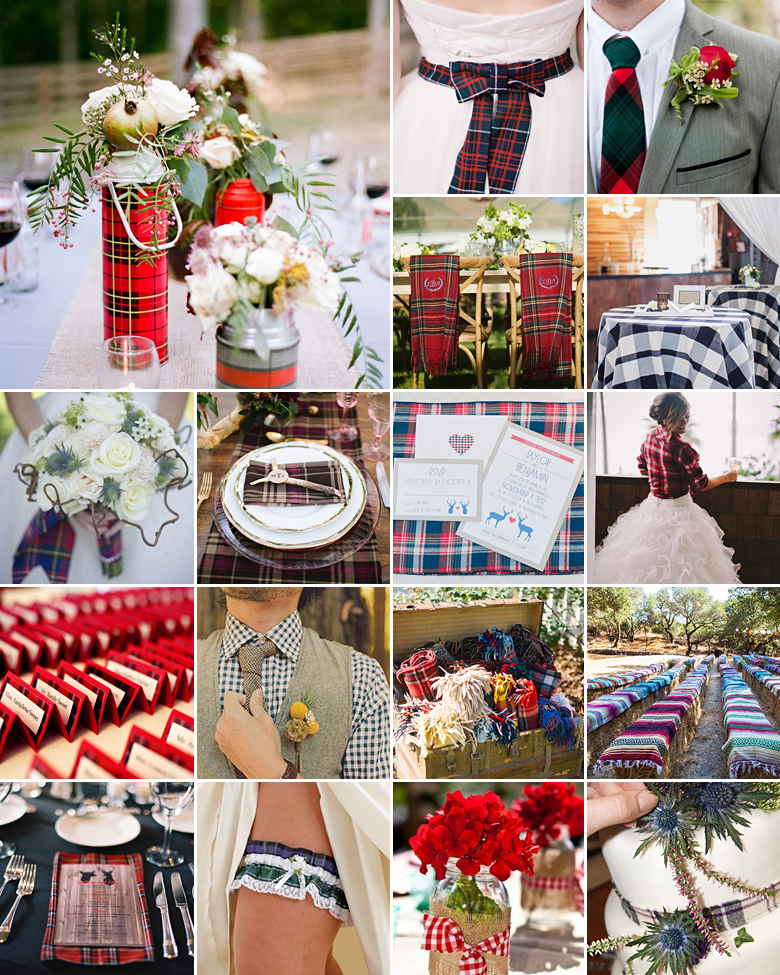 Plaid is really more appropriate for a winter wedding, so if you're busy planning for cosy and cuddlesome weather, this post is for you! Let's be honest – of all the fabrics, plaid isn't exactly a favourite in the pattern and fabric world, but as with all such things: The bigger the challenge, the greater the reward when you pull it off!
The trick to landing this theme with flair and panache is to keep it simple – after all, you don't want your wedding day to look more like a Scottish family reunion than a romantic celebration of love! Add small touches of plaid in strategic places – for instance plaid ribbons wrapped around the napkins, plaid bowties for the groomsmen, and so forth.
Here are more ideas to get you in the plaid state of mind:
Nothing says warm and snuggly quite like a thick woven plaid blanket or throw – ideal for keeping guests' knees warm in winter.
Add a touch of plaid to your own bridal ensemble with stunning plaid shoes, headband or garter.
Cover hay bales in plaid fabric to serve as soft seating and deck the guest tables in plaid – either tablecloths or runners.
Decorate the wedding cake with thick plaid ribbon and do the same with your wedding invitations and stationery items.
Complete hubby's outfit with a neat little plaid waistcoat or a hat, if he's up for it.
Decorate candles with strips of plaid fabric and dress your little flower girl in a plaid dress.
Original images and their credits available on Pinterest