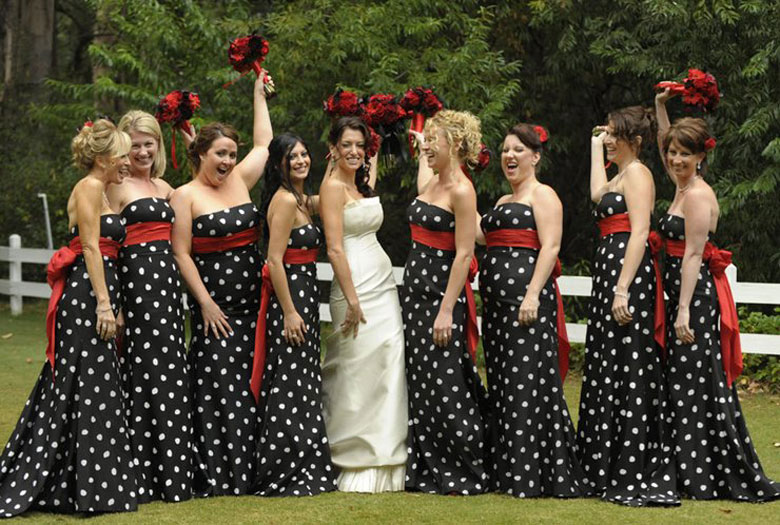 Polka dots are huge for 2011, whether they are subtle and feminine or bold and fun. Big, small, monotone or multicoloured; dots and spots are as versatile as the colours in which they come. You may have a specific colour combination in mind for your polka dot-themed wedding. If not, get hold of a few scrap pieces of fabric or paper of different colours and play around. Put combinations together that you may not have chosen before seeing them; get creative.
Invitations
This is where you set the tone of your wedding and its theme. Therefore, use your invitations to let guests know that they will be amidst a polka dot parade. You may choose spotty paper, or you can be a little more creative, attaching your invitation to a polka dot bandanna, or a colourful bouncy ball (making up one of the collective dots of your guests).
Attire
2011 is the year of white-on-white polka dots in terms of bridal gowns. This elegant, playful look is feminine, and combines a modern approach with timeless sophistication. The spots may be a slightly different shade of white to the dress, shiny on matt (or vice versa) or a different material (e.g. velvet on satin) to create a more striking effect. Alternatively, a plain or sheer white dress with brightly coloured polka dot accessories is a great option for a fun look. These accessories include your shoes, belt, fascinator, or the ribbon around your bouquet, if applicable.
The groom and groomsmen can opt for polka dot waistcoats and ties / bowties / cravats in the theme colours of your wedding. Otherwise, they can go 'all out' with polka dot suits (black on black or brown on brown will look tasteful and trendy).
Dress the bridesmaids in cute spotty dresses that are on or just above the knee (so as not to look overdone), or keep their outfits plain, introducing the polka dots on their accessories. Polka dot shoes go a long way in creating an endearing, effective theme without being too dramatic.
Décor
The roundness and fun of polka dots evoke images of bubbles and colourful balls. Use this in your décor by hanging colourful balloons, paper ball lanterns or painted paper plates from the ceiling at different heights above your guests. In addition, you should replace traditional confetti with bubbles or round pieces of colourful paper so that your guests can immerse you in a fantasy of polka dots as you emerge from the church or ceremony venue.
Put bottles of bubbles on each table so that the guests are encouraged to blow these, filling your reception venue with whimsical dots.
Other décor items, such as the table cloths, table runners, napkins, chair tie-backs, and so on are all flexible enough to carry the polka dot theme in just about any colour combination. This means that they are the ideal media to use to translate your theme effectively.
Some fun colour combinations:
Black and red
Hot pink and lime green (which looks best on a black or white background)
Orange and fuchsia
Black, red and brown
Candy pink and baby blue
Sky blue and lilac
Black and green
Purple and gold or yellow
Deep red and bottle green
Bright orange and turquoise

Photo Credit: community.i-do.com.au