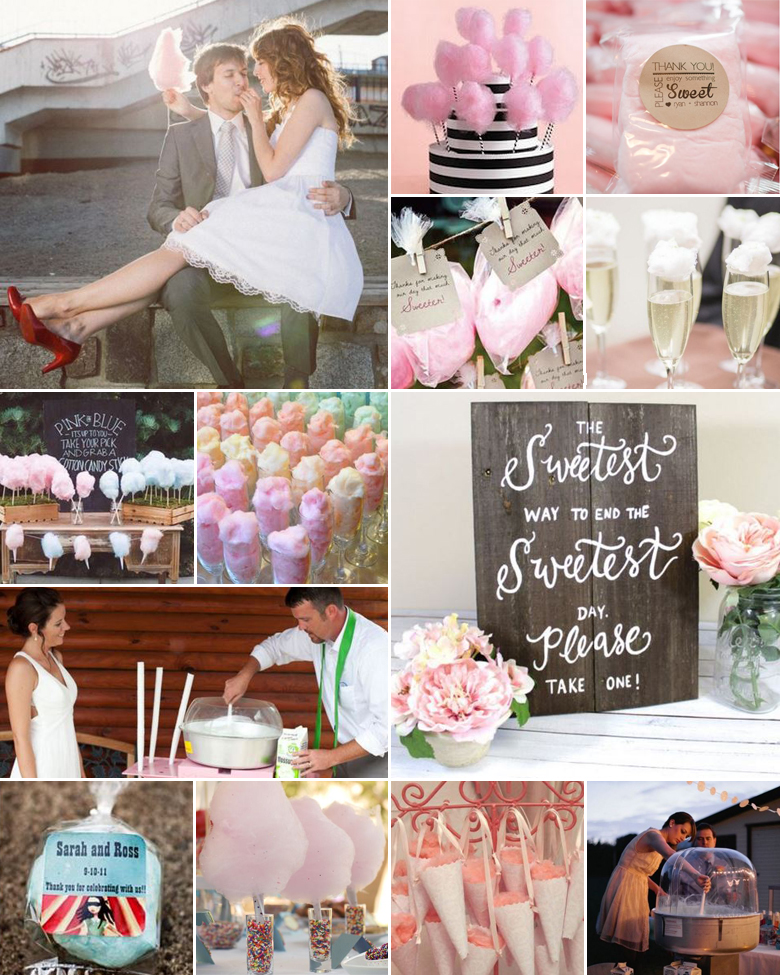 Let's take a trip down memory lane to the days of school carnivals and church bazaars! Candy floss is a guaranteed icebreaker at any wedding or celebration, and adds a fun, nostalgic and childlike element to your special day.
Have your wedding cake decorated with pieces of candy floss on your cake.
Rent a candy floss machine and serve a variety of colours.
Have a candy floss bouquet custom made for your walk down the aisle – a sweet treat for hubby on the other side!
Dress your bridesmaids in candy floss coloured dresses – use tulle, chiffon or organza, or a combination of these to create a look that resembles fluffy candy floss.
Make your own centre pieces by using branches and bits of pink cotton wool glued onto the tips of the branches.
Add to the carnival feel by hiring a popcorn maker, and serving pastel coloured ice cream and macaroons for dessert.
Make a candy floss photo booth by using and dying cotton pillow stuffing to decorate the booth walls.
Use pink tulle or organza for your tablecloths and runners.
Bring the dance floor to life with a fog machine and pink so your guests feel as if they are dancing in candy floss.
Incorporate the soft pastel colour of the candy floss other areas and elements of your wedding day.
Original images and their credits available on Pinterest