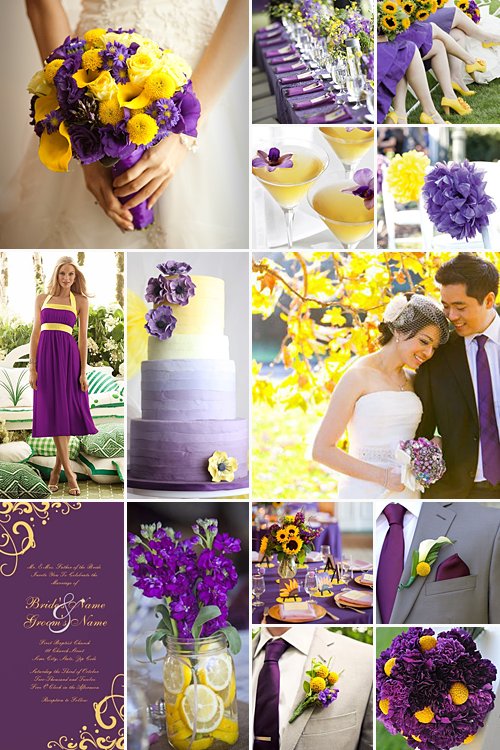 Purple and yellow is a vibrant, lively colour combination that conveys a sense of joy and fun. It is ideal for night or day weddings, and works equally well indoors and outdoors. Be carefully of not using the colour scheme too extensively through the venue and décor as it may become quite overwhelming. Rather, scatter it effectively in eye-catching splashes for the best effect.
The following suggestions and ideas are designed to get your creative juices flowing, so that you can enjoy a unique, memorable yellow and purple wedding:
Tie sprigs of lavender around your yellow napkins.
Yellow or purple shoes will look uber cute peeking out from under your wedding dress.
Dress your bridesmaids in knee length yellow dresses with purple belts, or vice versa.
For great purple and yellow bouquets, use irises, tulips, sunflowers, hyacinths, orchids, sweet peas and yellow roses. Combine lemons and lavender for a great centrepiece on each table. You may add some purple blooms (such as irises) if you feel you would like to emphasize the theme more.
For a more formal wedding theme, use gold instead of yellow to compliment the purple.
Original images and their credits available on Pinterest