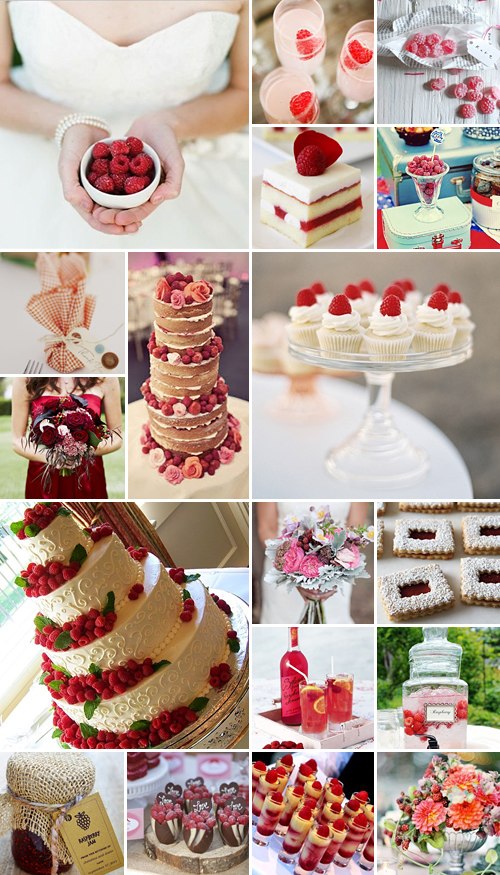 Who can resist the tongue curling juiciness of a fresh and zesty raspberry? This rosy fruit certainly makes quite a splash on any given occasion, whether served fresh or used as colour inspiration.
Speaking of colour – the 2014 wedding season is all about being bold, daring and striking, so it doesn't take a décor expert to realise that raspberry hits the nail on the head! So use this flashy colour with crisp white for a striking ensemble, or soften the look ever so slightly with hints of grey, crisp green or shades of berry purple. Here are more ideas with this versatile fruit:
Place bowls of plump raspberries on the tables for guests to munch on during the speeches or thread the berries onto twine and hang them from the ceilings, chandeliers and chair backs.
Incorporate raspberry vines into your floral arrangements – just be sure to trim the actual raspberries off the vines that go into your bridal bouquet, as it might stain your dress!
There's nothing like a refreshing raspberry cocktail to welcome guests to the festive celebration or champagne garnished with a fresh berry or two.
Indulge your guests with raspberry macaroons, cheesecake topped with zesty coulis, chocolate dipped raspberries and raspberry cake pops, not to mention jars of raspberry jam as guest favours.
A dark or white chocolate and raspberry wedding cake is an absolute must, or consider a chocolate fountain and raspberries as cake alternative.
Aside from the dessert table, raspberries can be incorporated in all aspects of the menu – from fresh summer salads and rich steak sauces to divine raspberry drizzled camembert bites.
Complete your bridal ensemble with striking raspberry lipstick and shoes.
Original images and their credits available on Pinterest