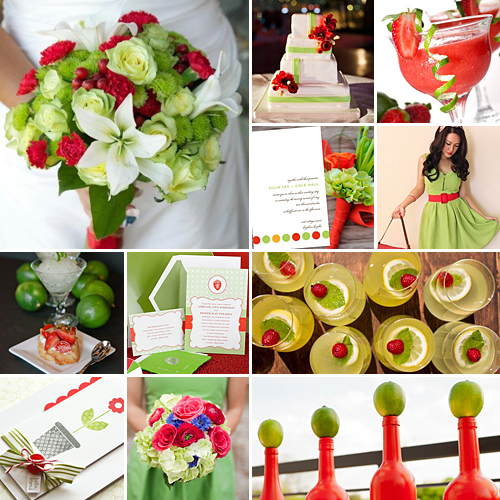 Red and lime green, as a wedding theme colour combination, is certainly a bold, playful choice. When implemented correctly, it is vibrant, fun and refreshing. The key is to feature the theme in splashes and bursts of colour, rather than overusing it. Choose a base colour that will predominate, such as black, white or ivory. Black or white will create a modern, trendy look, while ivory will make the colour theme more classic.
In the colour wheel, red and green are complementary colours. They are situated opposite to one another, and generally work well together; enhancing one another. In theory, complementary colours form a neutral colour when mixed together in the correct proportions.
To implement your red and lime green colour scheme, here are some ideas:
Use red apples and Granny Smith apples in glass bowls or columns as trendy table centrepieces. Alternatively, replace the green apples with limes.
Choose light green foliage and pair it with deep red blooms in your floral arrangements.
Apple imagery is uber cute and fresh. Use it in your bridesmaids' dresses, table runners and / or stationery design.
Serve strawberry and lime cheesecake, garnished with plenty of these ingredients to introduce your colour theme into the menu.
Metallic lime and red balloons can adorn the venues, line the aisle and be held by the bridesmaids.