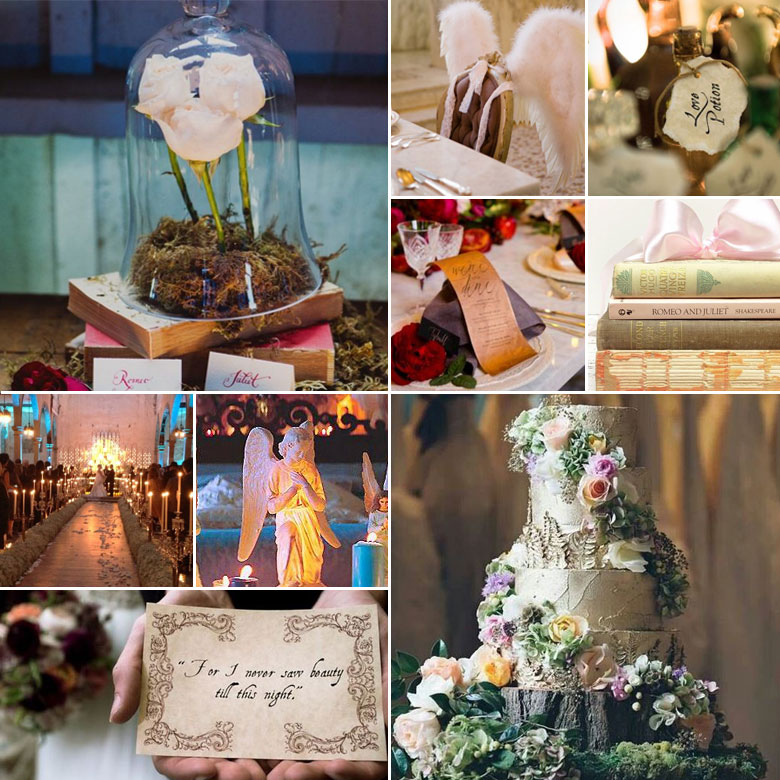 Whether you fell in love with Shakespeare back in high school, or lost your heart on the Taylor Swift song, this theme will touch your heart. Romeo and Juliet are one of literature's most famous couples, and their undying love has inspired many a stunning wedding theme.
Use a number of old books in your décor – if they're Shakespeare, even better! Stack them on the tables, hang them from the ceiling and use the pages as place mats.
Include quotes from the play in your wedding day stationery.
Play the famous Taylor Swift song as you walk down the aisle.
Serve shots in tiny bottles that resemble Romeo's "love potion".
Opt for a stunning old world wedding dress, like the style Juliet might wear.
Dress your Romeo in striking vintage attire out of the Shakespearean times.
Challenge your guests to speak in old English for the duration of the cocktail party.
Make confetti out of old book pages, by using a cute heart-shaped punch.
Serve an old fashioned buffet, laden with foods straight out of the Shakespearean times.
Opt for heavy cutlery and wine goblets to really complete the theme.
Original images and their credits available on Pinterest