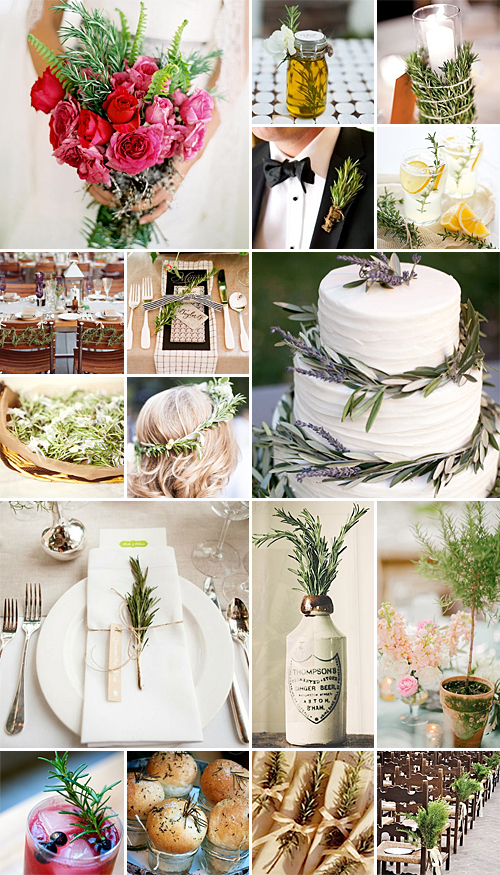 As the title suggests, rosemary primarily signifies remembrance, however this much savoured and appreciated herb is also a known symbol of fidelity. For this reason, olden day brides and grooms had the tradition used to tuck a piece of rosemary in the bouquet and boutonnière, as an extra bit of reassurance to their betrothed.
Today rosemary is as popular as ever and its undeniably mesmerising scent is the ideal way to set the scene for an organic, natural and cosy wedding celebration. By far the handiest and most defining characteristic of this unique herb is the strong yet flexible stem, allowing you to shape, twist, weave and braid it in any way you want. Here's how you can make the most of it:
Weave a little crown out of rosemary stems so the subtle fragrance follows you wherever you go and wrap a piece of rosemary around your wrist as an organic bracelet.
For the starters or canapés, serve freshly baked rosemary bread or rolls with a variety of pesto's, cheeses and preserves or crank up the quirkiness with rosemary infused popcorn. In terms of drinks, there's really nothing as refreshing as homemade lemonade infused with fresh rosemary.
Make your very own rosemary guest favours! These can range from a rosemary sea salt seasoning mix or a bottled rosemary salad dressing to a rosemary sugar scrub or vinaigrette.
Decorate the tables with potted rosemary plants, which guests can then take home as guest favours after the wedding.
Include a sprig of rosemary in the wedding invitations or save-the-date envelopes. Not only will it lend a fantastic fragrance to the stationery, but because rosemary signifies remembrance, guests aren't likely to forget the wedding date – or so we hope!
Follow the age old tradition of including rosemary in your bridal bouquet and make the boutonnières entirely out of freshly cut rosemary sprigs – very organic and masculine!
Make table numbers out of twisted and intertwined rosemary stems and use the same braiding technique to create rosemary napkin rings.
Instead of traditional confetti, have your guests scatter dried rosemary leaves over your heads – if that's not a sign of prosperity, then nothing is!
Decorate the wedding cake with sprigs of rosemary or opt for a savoury cake instead, whether it be rosemary infused breads or a variety of cheeses with rosemary pesto.
Introduce rosemary into the wedding décor by hanging bunches of freshly picked rosemary from the ceiling and placing rustic containers of rosemary on the guest tables.
For more Rosemary Wedding Ideas, the original photos above and their credits, make sure to check out our Rosemary Weddings Pinterest Board!