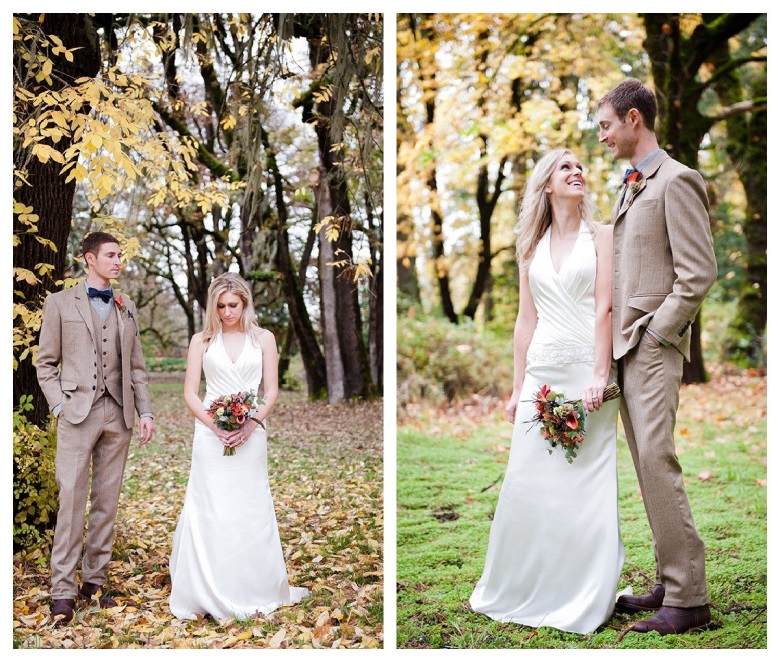 A rustic-styled wedding combines all the essential elegance of natural beauty, sophistication, romance and nostalgia – the perfect equation for your wedding day. The rustic theme is a subtle combination of all things 'country' with some antique elements and a dollop of childish playfulness. If this describes your personalities and the nature of your relationship, then rustic is the ideal theme for your big day.
Attire
As the bride, your wedding dress should be soft, flowy and naturally flattering in order to take advantage of the rustic setting. The focus should be on enhancing your natural shape, while using the nostalgia and playfulness that works so well within this theme. This could be done by including a splash of colour (like hot pink, turquoise or neon orange), or by option to carry balloons or a puppy instead of a formal bouquet. Consider purchasing an antique dress or using lace from a family heirloom to create an authentically rustic look. Because you are likely going to be spending some time walking outside, consider flat shoes or even colourful gumboots under your dress. A short veil is appropriate, but a fascinator or bird-cage netting is even more apt.
The groom and groomsmen will look fabulous in light-coloured linen suits, open neck shirts and colourful socks or braces. The bridesmaids can afford to wear knee-length dresses in pastel colours or even a floral print. Their hair should be left loose and natural and flat shoes will round this look off perfectly.
Invitations
Your invitations will set the scene for the invitees, giving them a clue as to your theme and what they can expect. You may decide simply to use design to convey your message (using images of natural woods, flowers, and so on). Alternatively, send a candle, honeycomb, pine cone or tree sapling with the invitation attached for a really different approach.
Flowers
Use wild flowers, particularly those locally found, if possible. Sunflowers, daisies and Fynbos (in South Africa) are fabulous options as they are bright and cheery without losing the appeal of the natural outdoors. Hibiscus and roses are also effective, particularly when displayed with wild grasses and butterflies as part of the arrangement or bouquet.
Transport
Arrive at your reception on horseback, a tractor, in a rusty old car or a vintage car to set the country scene.
Décor
There is no end to the wedding décor options available for a rustic wedding. Here are just a few ideas:
Glass jars (milk or preserve jars work well) or antique vases filled with wild flowers
Galvanised watering cans as centrepieces
Tin cans (remove label) filled with feathers, grasses and quills
Wagon wheels
Hay bales (use these as seats for the guests, if appropriate)
Display the wedding cake in an antique display cupboard
Use aged woods and wooden frames around the venue
Fill old glass jars with brightly coloured fruit or marshmallows for fun centrepieces
Collect antique tea sets and use the cups and saucers for guests' place settings. Do not worry if pieces do not match – that is all part of the appeal
Serve home-made lemonade in coloured-glass jugs on each table
Rusted wire words strung up on the walls (e.g. "Country Love", "Passion", "Memories", and so on) or as place setting card holders is a great addition to any rustic wedding
Guest Gifts
Guests will no doubt remember your unique wedding for many reasons. However, they will also likely be taking a memento back with them. This should continue the theme. Contemplate the following suggestions for your guest gifts:
Straw hats
Wellingtons
Jars of homemade jam or preserve
Picnic blankets
Honey or honeycomb
Photo Credit: rusticweddingchic.com