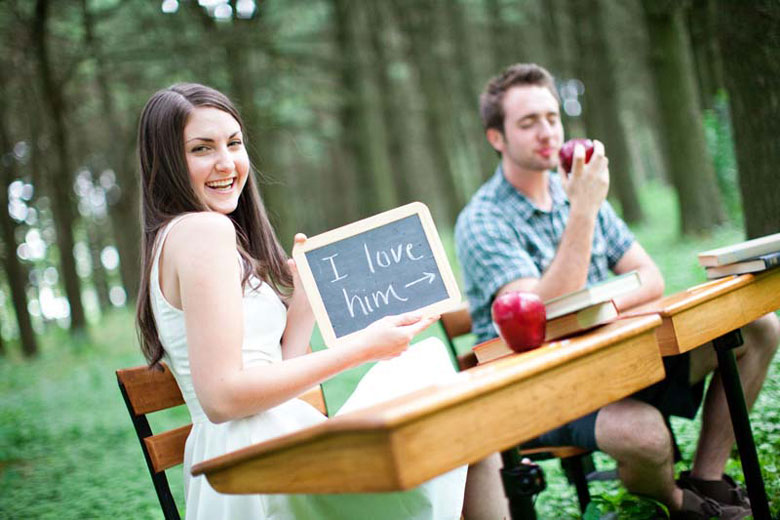 If you and your fiancé are a fun couple that knows your friends would enjoy a wedding with a silly spin, consider throwing a schooldays-themed party for a really memorable event. This is especially appropriate if you and your partner were high school sweetheart and will be inviting many of the friends you had back then.
Décor
Make extensive use of stationery, chalk boards, white boards and colour in your décor. Use chalkboards to direct the guests to your venue, show the seating plan, describe the menu, and so on. Scatter empty boards with chalk around the reception venue and encourage your guests to leave personal messages on them. You may need to photograph each one for keepsakes as keeping them will take up a lot of space in your new home.
Use primary colours sparely so that your venue does not look too overpowering. Decorate the walls with school charts (the anatomy of the human body, a world map, and so on) as well as children's drawings. Alternatively, use your venue to create a "prom night" effect, with punch, a disco ball and bleachers.
Use stationery inventively by arranging bouquets of colourful rulers in vases or bunching highlighters together in cute clusters.
Attire
While the bride may not be willing to forfeit the big white gown of her dreams, the bridesmaids and groomsmen can certainly carry this school theme through in their dress. Mid-thigh skirts, knee-high socks and scruffy ponytails are perfect for the girls, while the men can don a pair of grey shorts and a uniform tie. Alternatively, dress them in cheerleading and football player outfits for a more sporty approach.
Ask your guests to play along, so that the theme is really effective and everyone feels involved.
Centrepieces
Having fun centrepieces goes a long way in getting guests to relax and talk to one another while they wait for you to arrive. Consider putting colouring-in books and crayons on each table, or a cootie catcher that guests can play with.
Guest Gifts
Your guests will love receiving a school-style gift by which to remember your big day. Some suggestions include:
A diploma awarding them for their attendance or as the best friend / aunt / mother
An assignment requiring their presence at a dinner party at your new home after the honeymoon, for example
Fun stationery sets
A lunchbox or brown paper bag filled with goodies (chocolates, nuts, gourmet candies, etc…)
A "teacher's apple" with a 'thank you' note attached to the stalk
Other
Consider getting all your guests up on the dance floor by requiring that they show their hula hoop skills or see how long they last at skipping rope. Once the music starts, they are more likely to stay on the floor and dance.
Incorporate the school cafeteria look and feel into your wedding by serving meals on the typical cafeteria trays. Alternatively, present each guest with a lunchbox filled with gourmet sandwiches, biltong, nuts and sweets.
The most important part of such a wedding is to relax and have fun!
Picture Credit: www.bridalguide.com