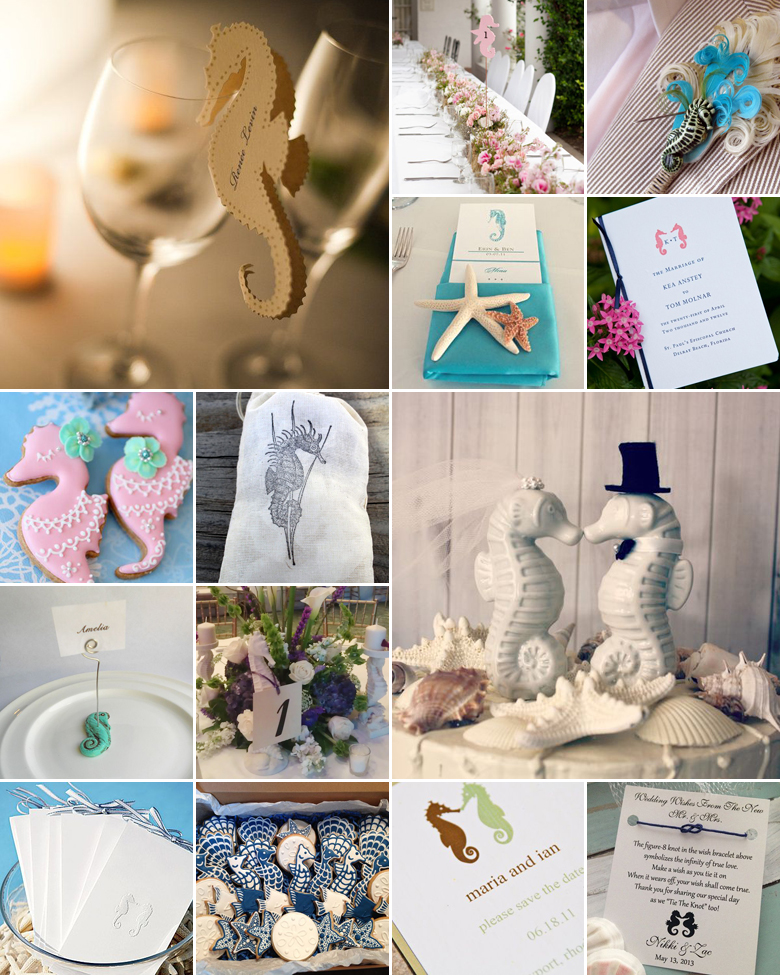 Sea horses are probably one of the most mysterious and mystical creatures out there – the unicorn of the ocean if you will. With their innate bonding habits and gentle romantic nature, it's no surprise that many brides and girls in general have fallen in love with them over the years.
Symbolically speaking, sea horses are associated with numerous good qualities including patience, protection, perspective, persistence, friendliness, contentment, generosity and sharing. These are all values that speak of a healthy and happy marriage.
If we take it back even further, the Ancient Greeks and Romans believed the seahorse to be an attribute of the sea god Neptune or Poseidon and as such, considered this tiny creature a symbol of strength and power. Chinese cultures on the other hand were of the belief that the seahorse is a type of sea dragon – revered for their power – whereas sailors consider the sea horse a symbol of good luck.
From a wedding perspective, it's best to draw your inspiration from the sea horse's delicate nature and let it shine through in all the elements of your big day. Opt for a sea green or aqua colour scheme, to further enhance the theme.
Surprise your bridesmaids with delicate sea horse inspired jewellery.
Instead of boutonnieres, let the groomsmen wear wooden laser cut sea horse brooches.
Complement the theme with other ocean inspired elements like sea shells, coral and bubbles.
Original images and their credits available on Pinterest