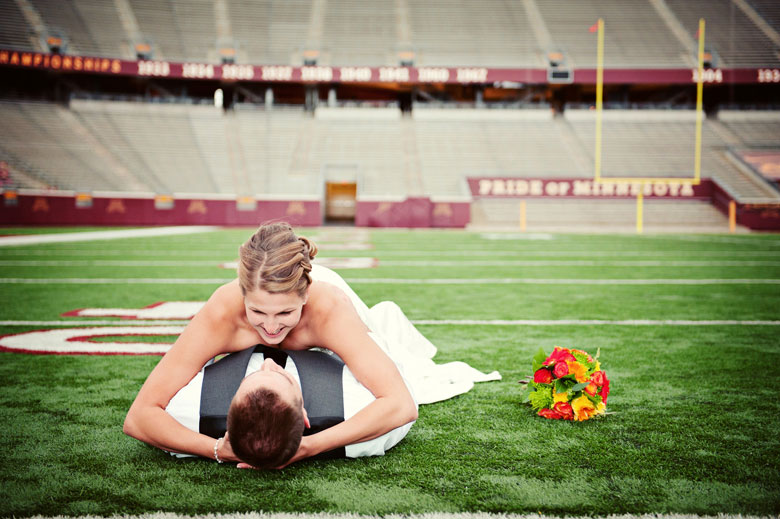 Dedicated sports fans or those in the industry may decide that having a sports-themed wedding would make their big day extra fun and special. If this is something that you feel would represent you and your future spouse, and that your guests will enjoy, read on for some innovative suggestions.
Theme Colours
The theme colours you choose depend very much on what type of sports you are interested in and whether you will be representing a particular team in your décor. Black and white can represent the chequered flag or the colours of a traditional football, while blue or red are common team colours.
Invitations
Send out fun invitations that communicate the sporty theme effectively. This can be achieved by the use of graphics (such as balls, scoreboards or cheerleaders) on printed invitations. Alternatively, attach your invitation to a mini soccer ball, the flag of your favourite team, a set of pompoms or a giant foam finger.
Attire
If you really want to go 'all out', consider wearing bridal attire in the colours or even style of your sports heroes. Matching figure skating outfits is fun and allows you, as the bride, to don a sparkly, feminine outfit, as opposed to a big rugby jersey. Alternatively, you may have a traditional gown in the team colour of your favourites, or with added features, such as a team badge or headgear instead of a veil. Opt for a neat ponytail or slicked-back style rather than loose, tousled hair.
The groom would look the part in a proper football uniform, complete with shoulder pads and tight pants.
Dress the groomsmen and bridesmaids as cheerleaders and water boys or in complementary his and hers sporting outfits (such as tennis players or sprinters).
Décor
There is so much room for creativity when it comes to decorating your wedding reception venue. Consider setting up the entire space to look like a sports hall of fame. Include pictures of famous sports stars, medals, trophies, banners, balls, bats, flags, and scoreboards. Use chequered flags or team flags as table cloths and name each table after specific players or teams, instead of numbering them. Replace the floral centrepiece with brightly-coloured cheerleading pompoms, or with an arrangement of different sizes of balls. Glue these together so that they are not rolling around the table. You may want to leave a 'scorecard' at each place setting and encourage guests to write a personal message on it, which you can look at later and keep as a memento of your big day.
Food and Beverages
Serve the types of food that are available at sports matches, such as burgers, hotdogs, corn dogs, candy floss and mini donuts drenched in caramel or chocolate sauce. These should be presented in polystyrene containers or wrapped in newspaper, as they are in the real-life scenario. Serve juice or water in squeeze bottles, which the guests could keep as their official guest gift. If you prefer a more formal meal, serve it on plates that are painted with a sports theme.
Guest Favours
Ensure that your guests remember your big day by giving them a really special sports-themed keepsake. This may include:
Pompoms
A badge bearing the logo of your favourite sports team
A gimmicky item that is usually sold at sports matches (such as inflatable bats, foam hats, and so on)
Photo Credit: blog.bellagala.com