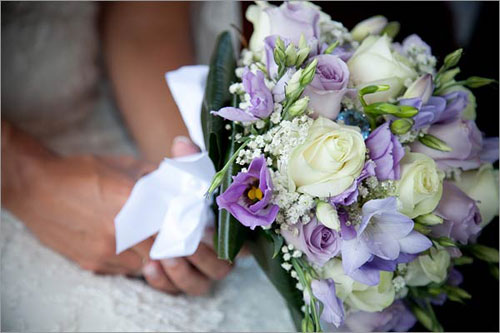 Sky blue, lilac and moss or pistachio green makes for a striking, romantic springtime colour combination for your big day. They are also ultimately feminine and just a little whimsical – the perfect recipe for a gorgeous wedding.
Although these are pastel shades, they create quite a dramatic effect when combined. Therefore, use them carefully and tastefully, so that your photographs are not overwhelmed by a rainbow of colours. Fortunately, this colour scheme works well with both black and white as base colours, allowing the couple to wear fairly traditional clothes while still incorporating touches of spring.
The following items will help to create your perfect blue, lilac and green wedding theme:
A bouquet and table arrangements of Hydrangeas and lavender, including the foliage to bring the green in.
Mint cocktails in blue-tinted glass, garnishing with a sprig of lavender.
Three bridesmaids, each wearing a different colour dress (one in green, one in blue and one in lilac). You might find a fabric that incorporates all three colours, but ensure that it does not look over-the-top or too busy, especially when photographed.
Pistachio ice cream, garnished with lavender.
This colour scheme works particularly well in outdoor settings, as it brings in the colours of the natural world around you.
Enjoy our gallery below…
[flgallery id=61 /]