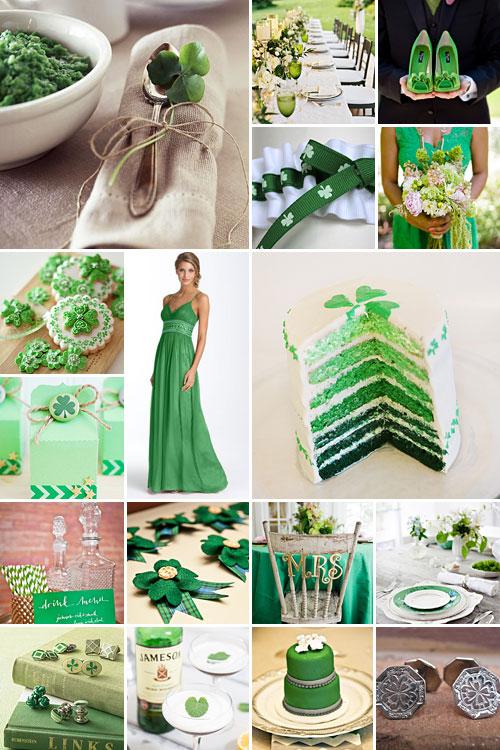 Happy St Patrick's Day from the Celebration Team!
Saint Patrick's Day is a religious holiday celebrated internationally on the 17th of March. It is named after Saint Patrick (c. AD 387–461), the most commonly known patron saint of Ireland. It originated as a Catholic holiday and has gradually become more of a celebration of Irish culture.
Over the years the colour green and its association with Saint Patrick's day grew. Green ribbons and shamrocks were worn in celebration of St Patrick's Day as early as the 17th century.  He is said to have used the shamrock to explain the Holy Trinity to the pagan Irish, and the wearing and display of shamrocks and shamrock-inspired designs have become a prominent feature of the day.
We couldn't help but put this blog post together regardless of whether you are getting married on St Patrick's Day or not. If you are, though, think GREEN and WHITE and get creative with the 3 leaf clovers. Here are some fun ideas:
Incorporate small 3 leaf clover design elements into your décor and bridal accessories such as your bridal garter or jewellery.
Opt for a white cake with some green fillings that become visible once the cake has been cut OR consider having am green and white ombre cake.
Consider wearing green shoes or heels with your white dress – not only will the combination be striking, it will add a fun element to your attire too.
Try finding cufflings with a clover design for a finishing touch to the grooms and groomsmen's suits.
Get creative, but don't over do it. If you choose to incorporate the 3 leaf clover into your wedding theme, try doing soft and subtle opposed to large clovers at every turn.
Original images and their credits available on Pinterest