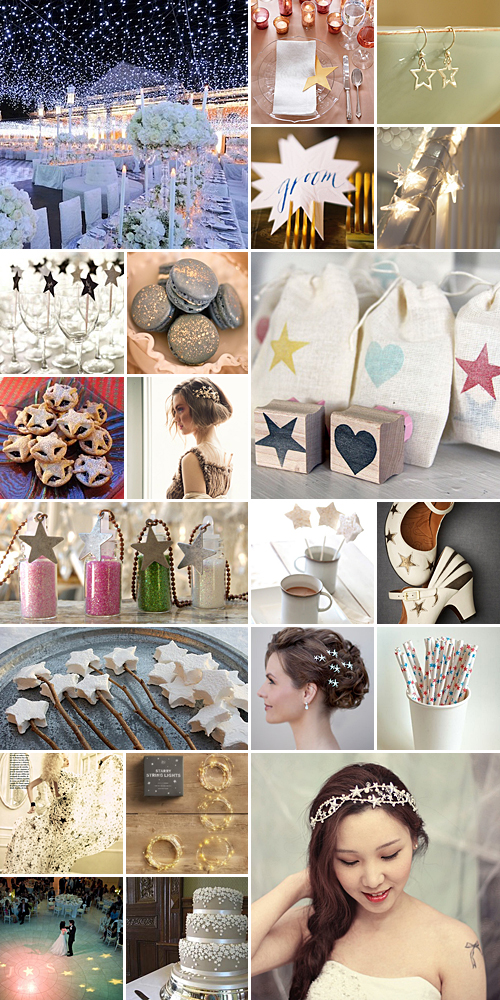 The keyword for this theme is "sparkle", so the idea is to douse everyone and everything – from guests and bridesmaids to wedding venue and cake – in glitter and bling. Opt for plenty of sequins, glass and crystal ware, and don't skimp on lighting, regardless of whether you opt for twinkling ceiling lights and glitter balls, or a bucketful of fairy lights and votive star candles. Then again, if it's summertime and the weather is fine, a ceremony or reception under the stars is first prize!
Here are more dazzling ideas that'll make your eyes light up:
Scatter star-shaped sequins on the tables and on the floor, and use it to decorate the various stationery pieces.
Incorporate wooden- or Perspex stars into the wedding décor, which can be dangled from the walls, trees, chandeliers and ceilings.
Decorate the wedding cake with fondant, chocolate or edible glitter stars, and fill the dessert table with star-shaped cookies. Alternatively suspend the star-shaped cookies from the chandeliers which guests can take home at the end of the evening.
Instead of confetti, have your guests light up the night sky with sparklers or ask them to stand around the dance floor for your first dance.
As a symbolic gesture, name a star after your hubby and present the certificate to him at the wedding.
Turn the aisle or dance floor into the Hollywood Walk of Fame and name a star after each of the honorary guests.
Add plenty of shiny frosting to your wedding ensemble – diamonds, sapphires and silver – or opt for star-inspired jewellery and hair accessories.
For more Star Wedding Theme ideas, the original images above and their credits, please check out the Pinterest board!