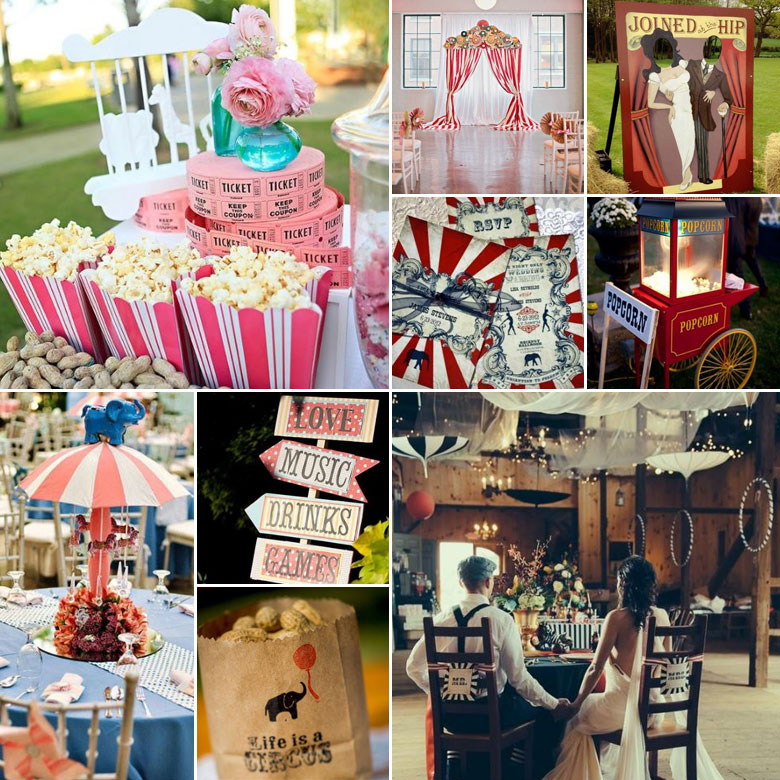 The circus is one of those places that hold wonderful childhood memories for many of us, and perhaps it has some significance to your relationship even. The fact is vintage circus themed celebrations are always a treat, and it's bound to take your celebration to the next level of fun, fun, fun.
There are many ways to go about planning your circus soiree:
Instead of a traditional venue, why not set up a circus-style tent or marquee for the reception?
Dress your groomsmen or MC in traditional ring master's gear, and choose tutus for the flower girls or bridesmaids.
Balloons are an absolute must! Fill the venue ceiling with helium ones, as well as ample bunting.
Provide proper circus entertainment in the form of a juggler, fire-breather or contortionist.
When it comes to dessert and guest favours, serve plenty of candyfloss, candy apples or popcorn.
Hire a make-up artist to do circus themed face painting on the night – your guests will love it!
For the first dance, as the lighting specialist to cast a spotlight on you.
Encourage guests to wear top hats, tassels and other circus inspired gear.
Decorate the venue with pinwheels, feathers and vintage circus photographs, and set up a fun black and white photo booth!
Original images and their credits available on Pinterest