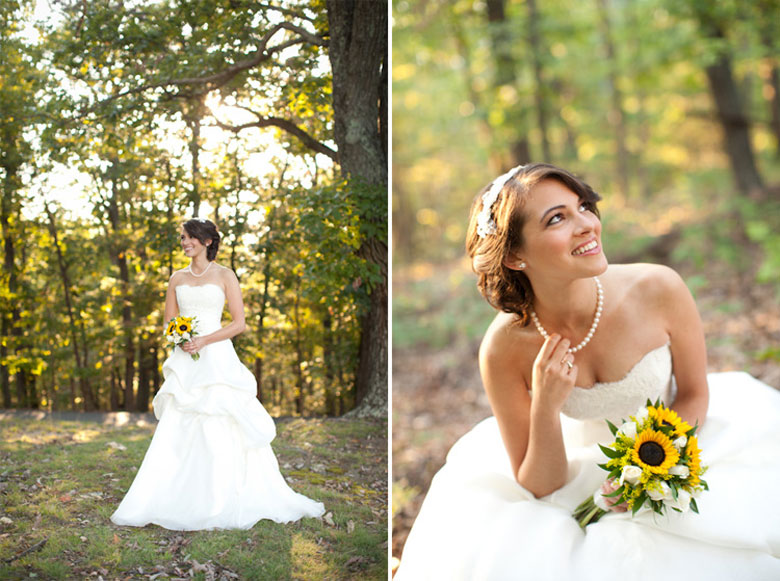 Sunflowers remain the symbol of love, peace and happiness. Their glorious yellow petals are sure to put a smile on the faces of your wedding guests. The blooms are known for following the sun as it moves across the sky, giving them the reputation for metaphorically seeking out the sunshine joys of life. This makes for a great wedding theme, lending your big day a very special touch.
Invitations
Your wedding invitations allow you to convey your theme from the outset. Attach them to little bags of sunflower seeds for a sweet, useful effect. This conveys the symbolic notion that the invites are 'sowing the seeds' for your wedding day. Alternatively, use sunflower imagery on printed invitations, allowing each of your friends and family members to receive a bright, cheery piece of stationery to set the scene for the celebrations.
Attire and Accessories
For your theme colours, use the vibrant yellow of the sunflower's petals and the deep, textured brown of its centres and then carry this through to the attire of your bridesmaids and groomsmen. Keep the look subtle and tasteful by not including too many fussy designs or floral patterns. Consider adding actual sunflowers as buttonhole bouquets or as features on sashes or belts.
Add smaller sunflowers to your hair, either as individual blooms or as a 1960's-style wreath for a fun look. If you, as the bride, prefer a more traditional hairstyle, reserve this look for the bridesmaids and / or flower girls.
For traditional floral bouquets, pair your sunflowers with dainty white daisies for really lovely arrangements. These two blooms are from the same family, so they complement one another perfectly. For a more modern approach, simply carry one sunflower.
If possible, have your wedding shoes custom-made with a cute sunflower motif or an embellishment to peek out from beneath your wedding dress.
Venue and Décor
Sunflowers are ideal for a country or outdoor wedding. So, try to choose a wedding venue that is either outdoors or that includes elements of the natural beauty to be found outside. A garden wedding, a marquee or a venue that has glass doors leading outside are all fabulous options for a sunflower theme.
For your wedding décor, try to incorporate the following items to create a stunning theme:
Sunflower seeds as eco-friendly confetti.
Yellow and brown napkins and stationery.
Galvanised buckets filled with sunflowers make great centrepieces.
A large bloom at each place setting, with the name of the person to be seated there nestled in the centre.
Sunflower wreaths on each table as a centrepiece.
Guest Favours
You want your guests to have lingering memories of the love and romance of your wedding day. To make sure that your day is extra-memorable, give each person one or more sunflower-themed favours that they can keep and / or enjoy. Some examples are:
A packet of sunflower seeds accompanied by a note on the health benefits and the many uses thereof.
Sunflower seeds with planting instructions so that your guests can grow their own beautiful blooms.
A beautiful bunch of real sunflowers for each couple.
Chocolate, soap or candles in the shape of a sunflower.
Photo Credit: www.erickelleyphotography.com