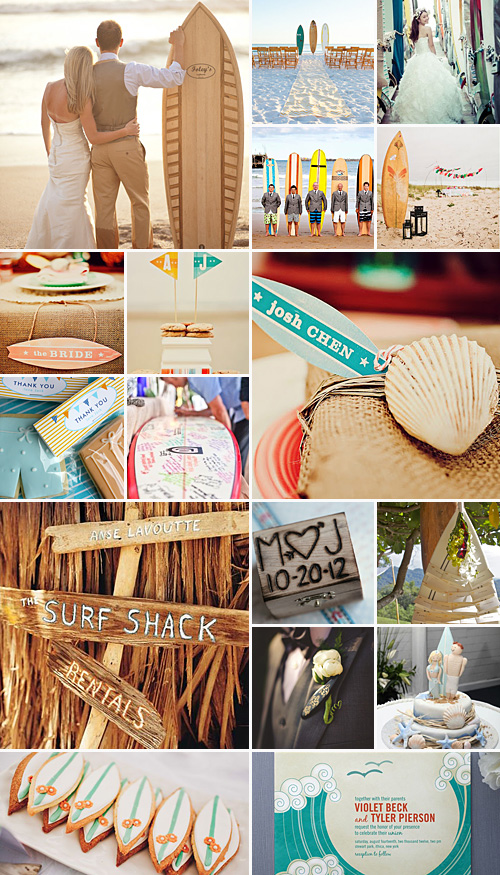 If surfing the waves and frolicking in the deep end is what your and hubby-to-be's lives revolve around, it stands to reason that your favourite pastime should somehow feature in the biggest day of your life. Aside from the ocean-inspired décor, the key to pulling off a surfer themed wedding is getting the vibe just right – relaxed and laid-back to the max. Here are a couple of ways to achieve just that:
Set the mood with the melodic tunes of Jamaican steel drums, beach band or a simple ukulele, and the tranquil sounds of running water. If a beach wedding is out of the question, decorate the venue with water features and mini aquariums.
Incorporate plenty of shells, sea sand and beach pebbles into the décor and stationery elements of the day – for instance, vases filled with sand and candles, and beach pebbles as wishing stones.
Use surfboards to construct cake and dessert tables, or simply to decorate the venue walls and ceiling.
Ask guest to write their well wishes on a decorated surfboard or use a surf board for your table plan.
In terms of flowers, think island style – hibiscus, frangipanis, palm leaves and lilies.
Textures and materials that complement the theme include burlap, rough driftwood, nautical nets and bamboo.
With regards to your bridal gown, opt for a simple yet flowing creation, something short or a hippie style crocheted dress, completed with soleless raffia shoes.
For the guys, opt for board shorts that match the colour scheme or light beige suits with open-collared shirts for a laid-back look.
Original images and their credits available on Pinterest