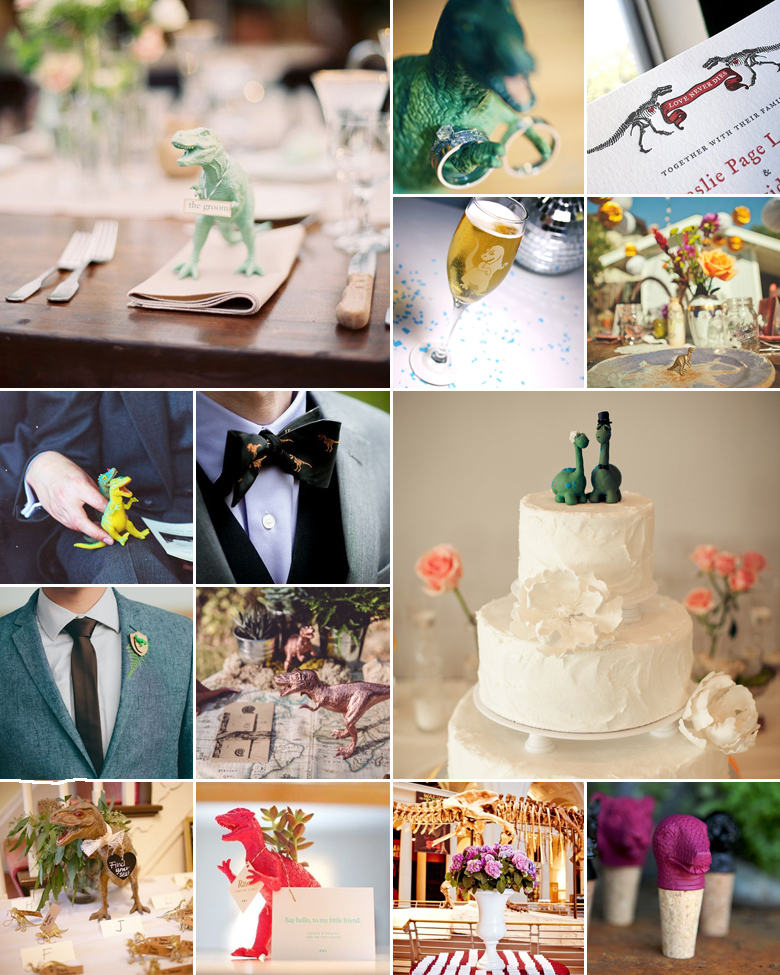 The T-rex might be considered extinct in the science world, but in the world of internet memes and décor he is very much alive! With his small arms, the once blood-thirsty T-rex has become known for wanting to hug everyone around him and spread a little love. So what better reason do you need to invite him to a loved filled celebration like your wedding day?
One of the most affordable solutions to incorporating T-rex figurines into your décor is by visiting your local toy store and buying a whole lot of plastic dinosaurs. Armed with a can of spray paint in any colour of your choice, you can change them into stylish décor pieces that match your wedding colour scheme.
Glue a simple brooch pin to the back of a mini plastic T-rex figurine to make your very own boutonnieres.
Place larger ceramic or plastic painted T-rex figurines in between the floral arrangements on the guest tables.
Incorporate the dinosaur skin and scale texture into your various fabrics and stationery designs.
Dress two T-rex toys as bride and groom, and use them as cake toppers.
Have quirky T-rex cartoons printed on your stationery as well as cushions and napkins.
Serve T-rex shaped sugar biscuits, as well as dinosaur paw-shaped delights.
Use T-rex paw prints on the ground to direct guests to important areas and amenities.
Complete your own bridal ensemble with T-rex inspired custom made gold or silver jewellery.
Original images and their credits available on Pinterest