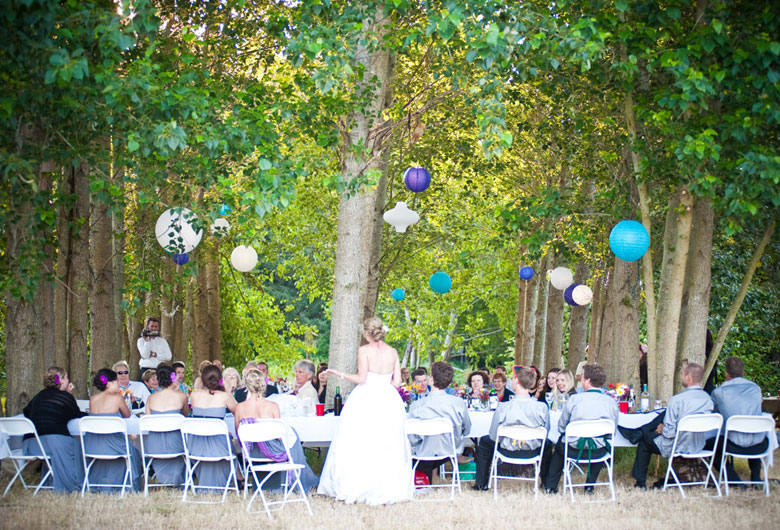 Weddings that are held on beaches, in gardens or on top of tall buildings always hold the promise of a unique and memorable experience. However, the weather on the day plays an integral role in the overall success of the wedding, most particularly in cases where no preparations for sun, wind and rain have been made. If you are not getting married in the town in which you live, make sure that you know what sort of weather to expect in the area of the venue. This does not only mean knowing what season it will be, but also being familiar with the changes and fluctuations that happen in the course of a normal day. Midday may be sunny and hot, only to cool down dramatically in the evening, for example.
If you are expecting warm and sunny weather, make sure that guests are seated with their backs to the sun. Metal chairs should not be used as these can burn guests after being in the sun for some time. It is wise to leave a small fan on each chair so that guests can keep cool without having to use their programme or invitation to fan themselves. These may be home-made, which often looks quite charming. If possible, have glasses of iced water (or refreshing mojitos) readily available for them to sip on during the ceremony. Flowers in the centrepieces are likely to wilt in the hot sun, so consider feathers, quills, candles, glass features or dried grasses instead. If your budget allows, some shelter is always recommended.
If it is going to be chilly outside at the time of your ceremony or reception, seat guests in a spot where the wind will not be too strong and consider making knee rugs available. Of course, if there is any possibility of rain, it is imperative that you make a Plan B, just in case. Soggy ground can cause the bridal party and guests to slip and get stuck in the wet grass. If it has rained the night before, practice walking on the ground and warn guests as they arrive.
Windy conditions are an inconvenience, but there are plenty of precautions that can be taken. The bride should attach small weights to her veil to prevent it from blowing over and around her head during the ceremony, dance and speeches. If you suspect it may be windy, choose heavier fabrics for everyone in the bridal party, rather than silks and chiffons. Make sure that your hair and that of the groom's is firmly in position with spray and / or gel. Candles do not withstand wind, so place a hurricane lamp or similar protective shield on or around these. This is practical and looks beautiful.
There are many more natural sounds when you are outdoors, so make sure that the sound system can sustain these and nobody is left lip reading the vows. An added distraction can be mosquitoes or flies. Burning citronella candles or spraying the area thoroughly before the guests begin to arrive should solve this problem effectively.
The food and cake at an outdoor wedding needs careful planning and forethought. Dairy- and mayonnaise-based sauces and toppings may turn rancid if left outside in the heat for too long. Salmon, salads or other cold items lose their flavour (and appeal) once they have warmed up to room temperature. The same is true of drinks that have become diluted with melted ice. A wedding cake with icing on it may melt very quickly in the heat. Marzipan or fondant is recommended in this case.
Outdoor weddings are a fun, romantic option for bridal couples who value the beauty and nostalgia that a garden or park can provide. With some extra preparation, they will prove to be every bit as striking and memorable as you imagined.
Photo Credit: www.onewed.com