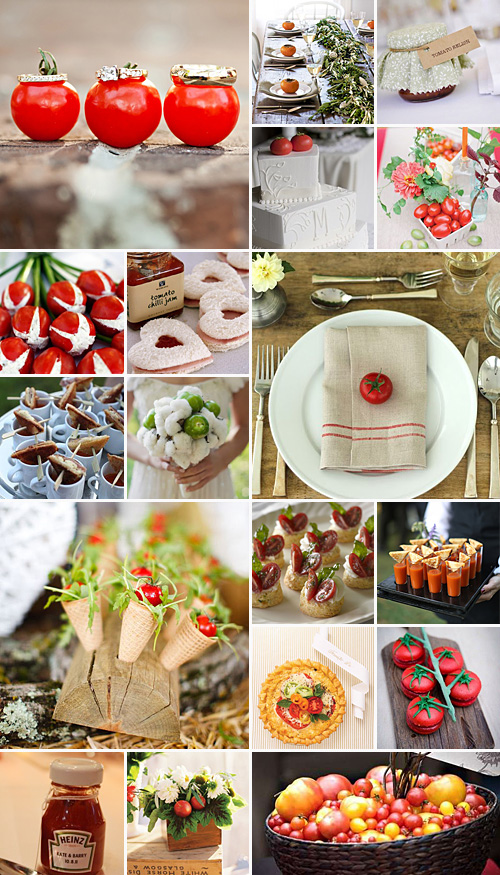 Few things say "juicy, organic and country fresh" quite like a plump ripe red tomato. These days, décor experts are all about going the functional route – if it has no practical use, it should get out of the kitchen – hence the reason why fruit and vegetables are being used in new and innovative ways like we've never seen before.
Firstly, the food tables will naturally be laden with tomato goodies – from salads, DIY pizzas and jams to roasted tomatoes, caprese skewers and soups. However the use of tomatoes need not be restricted to starters and main course; Bloody Marys are the ideal party starters while tomato shaped macaroons and candied cherry tomatoes are sure to get guests' tongues wagging.
Secondly, here are a couple of non-foodie ways to add a dash of tomato to your special day:
Incorporate vintage tomato crates and tins into the décor of the day – for instance, use them as bread baskets, flower displays or on the gift or dessert tables.
Use rosy tomatoes as part of the décor – for instance stacked in a tall vase as centre piece, each guest's seat as place card holder.
Extend the theme with an appropriate colour scheme – that's to say fresh splashes of reds, organic greens and yellow.
In terms of guest favours, spoil guests with small baskets of fresh cherry tomatoes, a mini Bloody Mary kit or jars of homemade tomato jam or chutney.
Tomato plants are really rather striking, so use them as table centre pieces or presents for the guests.
Add quirky tomato icons and illustrations to the stationery elements and keep an eye out for unusual tomato-inspired jewellery and accessories – a Tomato watch, if you will!
For more Wedding Tomato wedding ideas, the original images above and their credits, make sure to check out our Pinterest board.