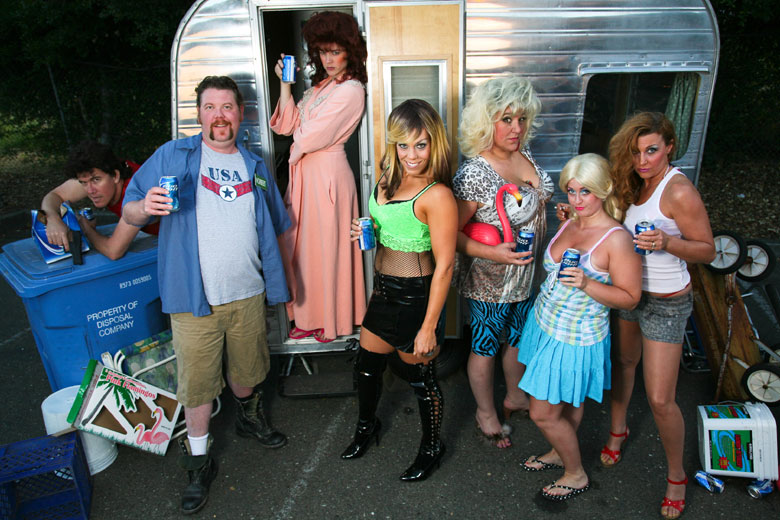 Fun couples that want to celebrate their day in a really memorable, off-centre way should definitely consider having a trailer trash theme. While this is not very romantic in the conventional sense of the word, it is certainly different. In addition, the sense of romance would be conveyed by the sentiments expressed, rather than by the clothing and décor.
Invitations
Set the tone of your day by sending out really trashy invitations made out of newspaper or scrawled onto toilet paper. Alternatively, use clearly recycled Valentine's Day or Christmas cards, scratching the original contents out and replacing it with your wedding invitation wording. Beer labels are another great option, bearing the invitation on the back as if jotted down over drinks in the local bar.
If you would prefer more traditional invitations, use imagery of NASCAR racing, beer cans and mobile homes to achieve your theme.
Attire
Trailer trash clothing is really easy to get or create, and your guests are sure to enjoy the opportunity to dress up. The wedding gown should be shockingly 'cheap and nasty', but also over the top. Your neckline should be very low and revealing, and tacky tattoos will complete the look. Short or long, try to incorporate animal prints and luminous colours in your dress (and accessories).
White T-shirts with stains on the front, Bart Simpson prints and / or rolled up sleeves are perfect for the groom and his groomsmen. Denim dungarees and flannel shirts are another great option.
Hair and Make-up
Mullets are the absolute epitome of trailer trash hairstyles. Either purchase wigs in this style (short in the front and long at the back), or consider cutting your hair for this special occasion. Women that are hesitant to do so can opt for platinum, kinked hair with bright accessories.
Make-up should be dramatic and outdated, such as pink lipstick with blue eye shadow and over-rouged cheeked. Consider painting one or two teeth with a black marker or a pen specifically intended for this purpose.
Décor
Your décor options are inspiring and practically limitless. Here are some great ideas:
String a "wash line" across your reception venue and hang underwear on it.
Pink flamingos and gnomes usually used as garden ornaments.
String beer cans up or place them in 'arrangements' instead of floral centrepieces.
Plastic lawn furniture at which guests will be served and seated.
An old, rusty washing machine or tumble dryer that serves as a table or counter top (perhaps holding the wedding cake).
Confederate flags.
Fake, cheap flowers.
Food and Refreshments
No matter what style of dinner you want to present to your trailer trash wedding guests, fried chicken and pork rinds are an absolute must! Chicken nuggets and pigs' feet are also appropriate. Put your meat, fried potatoes and slices of spam in TV trays, complete with plastic cutlery and sachets of salt, pepper and tomato sauce or ketchup. For dessert, present a jar of fruity baby food or a Twinkie to each guest.
Serve boxed wine, beers and plenty of no-name brand sodas at the bar.
Guest Gifts
Ensure that your friends and family feel valued by giving each one of them a plastic fly swatter or a can of beer as their parting gift from you, the newlywed couple.
As your guests dance the night away to country music about rejection, there will be no doubt that yours is one of the most memorable and unique wedding that they have attended.
Photo Credit: genevaanderson.wordpress.com